They say family gives you the roots to stand tall and strong; let us be the first to introduce you to our younger sibling, Squads Abroad! With Global Brigades and Squads Abroad working together our Holistic Model is set to be more impactful than ever! Just like your family, our family shares some similarities but each organization retains our own unique characteristics. In 2018, we brought Squads Abroad into our family to expand our volunteer base with high school students and further round out GB's Holistic Model.
Over the last year, we've worked together to adapt the Squads programming to fit into the Holistic Model and from a volunteer perspective, this created an opportunity to level-up high school volunteers' future opportunities to do more sophisticated development work through Global Brigades when they eventually graduate and begin attending a university! Global Brigades has given Squads Abroad a larger infrastructure to scale operations and make a deeper impact through community development!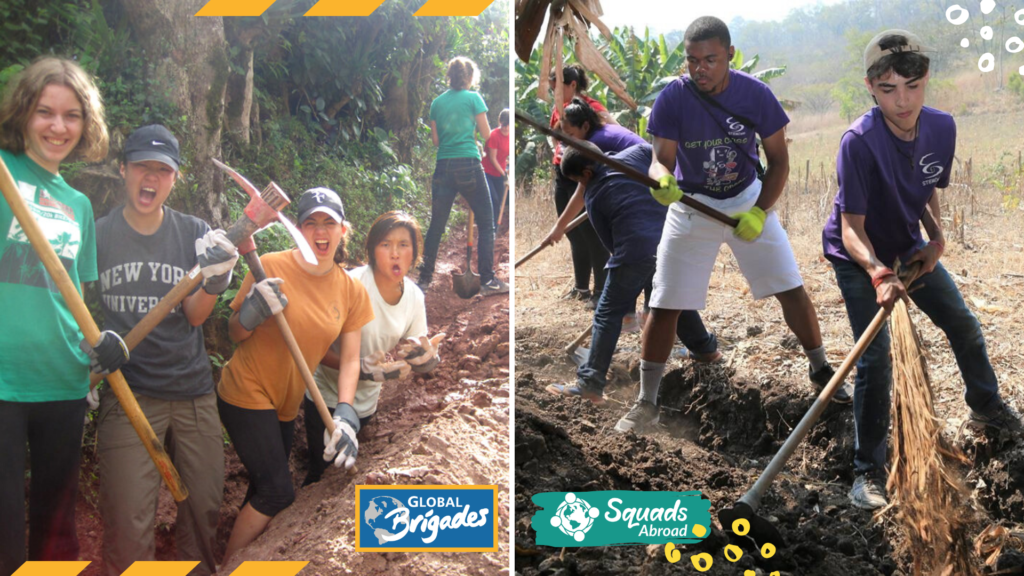 Top 3 Differences Between Squads Abroad and Global Brigades

We bet you're wondering, what are the differences between Squads Abroad and Global Brigades if they are part of the same organization? Not to worry, we are here to clarify! Check out the 3 key differences between the two!
University vs. High School

– While both programs offer the incredible opportunity to empower under-resourced communities abroad, the main difference is that Global Brigades offers programs to university students while Squads Abroad offers programs to high school students. Squads are comprised of high school students and the faculty members that lead them who mobilize abroad for positive social change. collectively with Squads Abroad, we have mobilized more than 80,000 university and high school volunteers as one of the largest empowerment initiatives.

Cultural Enrichment
– One of the most unique aspects of Squads Abroad is the cultural immersion component of all their programs. Each skill-based program offers unique opportunities for students to elevate their cultural competency based on the unique community they work with. From traditional batik fabric dyeing in Ghana to cow-milking and cheese-making workshops in Costa Rica, each activity exposes students to a unique aspect of the country's culture.
– In participating in these activities, high school students learn about the country's history on a deeper level and have the chance to learn from and bond with local community members.

Independent Leadership
– While Squads Abroad's supplementary focuses on cultural competence, Global Brigades' programs support independent leadership. This means Global Brigades volunteers get to deepen their understanding of international development from our strongest local community leaders and staff members.
– Global Brigades even offers Student Leadership Conferences and Global Leadership Institutes which focus on bringing together leaders to experience the Holistic Model and think critically about volunteering abroad.
Behind The Scenes with the New Holistic Model
The Holistic Model is how we meet a community's health and economic goals. This model demonstrates how each squad and brigade type are a part of a larger movement of volunteers and year-round development work that helps break the cycle of poverty.
The Holistic Model graphic demonstrates how our three broader programmatic focus areas: Sustainable Health Systems, Economic Development and Water & Sanitation Infrastructure systematically work together. Previous versions of the model were presented in a linear order, but it is more dynamic than that! We begin partnering with communities at different points in the model and some need more strengthening in one of these areas prior to beginning to work on others.
The Holistic Model helps us actively engage with a community's needs, helps the community form strong leadership and organization, and seeks to build a continuous partnership through the hard work of volunteers, staff, and community members. We are excited to add Squads Abroad to it!

How Can You Get Involved
In college or at a university and interested in Global Brigades? Join an existing Chapter or start a new one as a Presiden!
If our programs have peaked your interest, don't hesitate to join an existing GB Chapter on your campus. By joining a Chapter you can learn more information about brigades and connect with our GB family right at your university. Are you more of a leader? Consider becoming a Chapter President and starting your own Chapter or joining a Leadership Institute where you can experience our programs up close and personal. To learn more about these unique opportunities click here!

2. In high school and interested in Squads Abroad? Are you a high school teacher? Lead a Squad or join a squad at your school
Join our squad! If you're interested in leading a group of high school students on an experience they'll never forget – click here to learn how. Are you a high school student who's interested in joining a squad? Talk to your instructor or coach and let them know that we offer programs that focus on health, education, or STEM so you can put all those skills you've learned in school to use! Share our website with your teacher and follow us on social media to see what we really do on a Squad!

3. Tell your community about Global Brigades and Squads Abroad
You may not be in high school or college, but we're sure you know someone who is! Spread the word to your friends, family, and colleagues who you think may be interested in a unique opportunity to empower under-resourced communities abroad. You can send your friends a link to the Squads Abroad and Global Brigades websites or follow us on social media to stay up to date on all the latest GB events and news.

4. Need more info? Reach out!
If you're on the fence about joining Squads Abroad or Global Brigades we can provide you with more information and help you decide which program is right for you. Contact us at info@squads.org or admin@globalbrigades.org for all inquiries.