In March, the Global Brigades urban clinic located in Tegucigalpa, Honduras welcomed its first-ever in-person Brigade. The University of Pittsburgh School of Medicine GB chapter spent a week in the country's capital completing a dermatology Brigade.
The Who, What, and Why of the Urban Clinic
Global Brigades' Honduras-based urban clinic opened its doors in 2020, in an effort to provide reliable, accessible, and affordable health care to residents of the country's bustling capital, as well as serve as a space to refer community members to during rural clinic Brigade days who require more advanced care.
The clinic is maintained by the GB Honduras team, including our dedicated team of health care professionals passionate about the Global Brigades mission to inspire, mobilize, and collaborate with communities to achieve their own health and economic goals.
Since the initiation of Medical TeleBrigades in 2020, the urban clinic has dialed in with volunteers around the world to treat visiting patients. In 2022, we opened the clinic's doors to in-person Brigade volunteers!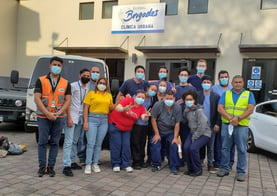 GB staff and Pitt Med volunteers outside of the urban clinic
5 Clinic Days with 6 Volunteers
Alongside Dr. Alaina James, six medical students from Pitt Med, spent five days evaluating and treating approximately 200 patients in total. Prior to volunteers rolling up their sleeves and getting to work, they were taken through the clinic for a full tour of its stations, including gynecology, optometry, dentistry, and general medicine.
The Brigade included 3 consultation days and 2 procedure days. Cases ranged from acne to cancerous skin lesions and student volunteers worked directly with both Dr. James and Dr. Sanchez, the clinic's in-country dermatologist. A total of 10 biopsies were completed and covered by Pitt Med, meaning patients didn't have to pay for their necessary procedures. Biopsied patients made appointments to return to the clinic the following week for further care.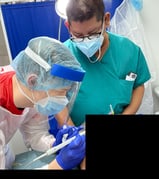 Erik Jaklitsch and Dr. Sanchez on dermatologic surgery day
Volunteer Takeaways
"As a medical student in the US, we are frequently taught to treat the whole patient, with an emphasis on understanding the varied socioeconomic, cultural, environmental factors that can influence a person's health. However, there is only so much that can be taught in the classroom, and even clinics in the U.S. can sometimes fail to provide the most comprehensive view of health in different contexts. Our experience working at the urban clinic in Tegucigalpa has helped me personally to put our own healthcare system with its varied benefits and pitfalls into perspective, while giving us the opportunity to meet with a vibrant community that is passionate about their people, country, and patients. I could never have expected the degree to which we were welcomed but also able to gain experience while contributing in such a way that felt as if we were making an impact with our time there. I can't wait for the opportunity to return!" - Erik Jaklitsch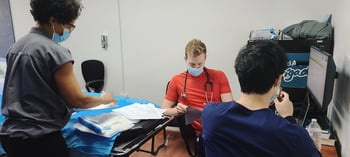 Dr. James and volunteers working on medical notes after a busy clinic day
"By the end of our weeklong adventure with Global Brigades, I truly felt like part of the team and part of the family. It was absolutely inspiring to both witness and participate in life-changing and life-saving affordable health care that Global Brigades provides day in and day out. From witnessing Dr. Sanchez perform a surgical excision on a basal cell carcinoma that was 10 times cheaper than what it would have costed in another clinic to assisting Dr. James in many dermatological procedures, I loved every second of it. Whether I was helping in the dermatology clinics, the optometry clinic, the general medicine clinic, or the dentistry clinic, I always felt welcome and encouraged to practice my Spanish and to learn more about the inner workings of medicine. This was an amazing experience, and I hope to come back soon!" - Jonathan Hwang
Thank you for all that you do for GB, Pitt Med volunteers! We can't wait to continue welcoming volunteers to the Global Brigades Honduras Urban Clinic. Interested in getting involved? Tap here!