Cheryl Cheah is a volunteer from the University of Arizona and answers the following question, "How has Global Brigades Affected Your Academic Path?"
I had the opportunity to brigade to Ghana last winter break and it was one of the most rewarding experiences I've ever had. Before going to Ghana with the University of Arizona College of Pharmacy Medical Brigade, I was hoping that this clinical trip would give me an introduction to the medical field in a less developed country. I expected to learn about the health care system in Ghana as well as learn some elementary medical skills. I soon found out that this trip was beyond my expectations, because my experiences in Ghana didn't just give me a glimpse of the medical field; it boosted my passion to become a pediatrician exponentially.
At the opening ceremony that the Egyankwa community held for us, I remember thinking to myself that these children are so lively and that they have the most genuine smiles I've ever seen!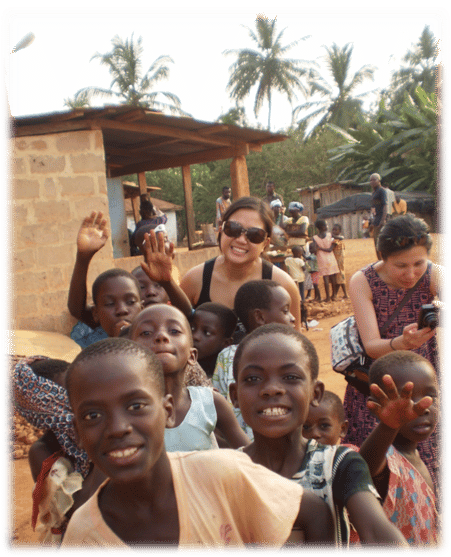 When they smile, they smile for miles…
Only after shadowing the physicians and working in triage did I see the hardships behind those smiles. Some children have been running a fever for weeks, while others have contracted malaria and till this point, have had no resources to treat it. My breaking point was seeing a 2-year-old boy who weighed less than 7 pounds. Many newborns here in the US weigh up to 12 pounds, and this 2-year-old barely weighs 7 pounds? It physically hurts me to think that I complain about the obstacles in my life daily, while these children smile through their worries even though they have more bumps in their life journey than I do. For this reason, I am that more encouraged to become a pediatrician because I want the children to be able to play in the rain, as well as stay healthy enough to go to school and pursue their dreams.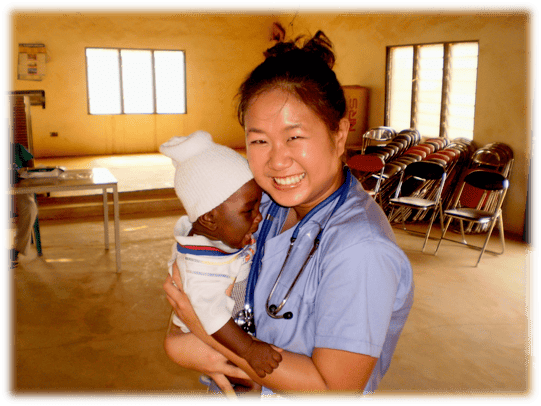 Attempting to work my people skills on this adorable baby.
Like stated above, my trip to Ghana was not just a medical trip, as I learned more about the culture and the people of Ghana than medical skills. The people were so welcoming that I immediately felt like I was a huge sponge absorbing their warmth and kindness as soon as I stepped off the bus. After my Ghanaian experience, I realize that I want to have a career that involves working with people, or preferably one that involves making people feel better. I learned that I love working in a team because I can build strong relationships with the people I work with very quickly. Although I only worked 4 days of clinic, I felt like I've known all the doctors, dentists, interpreters, pharmacists and nurses my entire life. They became my temporary family away from home and I'm thrilled that I still keep in touch with them today.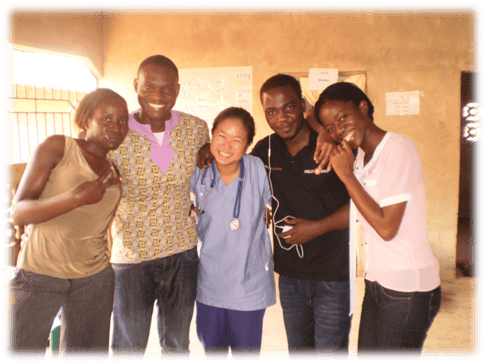 It was a blast working with the doctors: Dr. Gwen, Dr. Phillip, Dr. Samuel and Dr. Dora!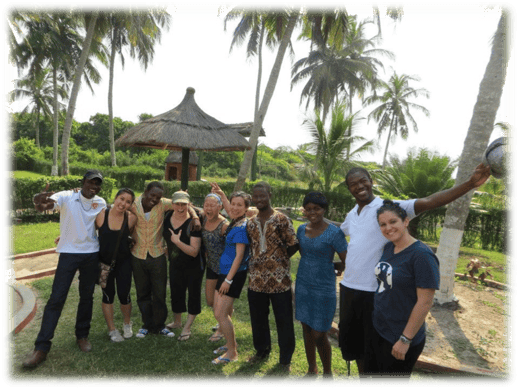 My Ghanaian family on my last day in country.
Every great journey has to come to an end. Despite being a clinical volunteering trip, I learned so much about myself and confirmed my true calling as a pediatrician. Working with people to make them feel better fulfills me in so many ways that I cannot imagine what I would do if I couldn't preserve the smiles on children's faces. Yes, medical school is going to be a tough journey ahead, but I am now more motivated than ever to conquer this obstacle to accomplish my goal. Seeing the kids smiling ear-to-ear through their hardships, I am now more than convinced that I can finish my undergraduate degree and survive medical school. Given the opportunity, it would be a dream to go back to the Egyankwa community in Ghana one day after I become a doctor and let them know that my dream started there. Before that happens though, I would just have to relive my experiences in Ghana over and over again through the pictures I took. My experience was too good to be true, but this time it really was true!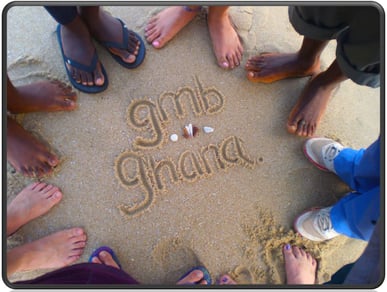 Pictures like these remind me that I did in fact brigade to Ghana, and it wasn't a dream that my trip was so rewarding!