Global Brigades' Patient Referral Program is thrilled to announce that Emerita Jesus Zambrano has successfully undergone surgery for her prolapsed uterus and is doing very well! Thank you to all the donors to our Patient Referral Program for making this life-saving surgery possible!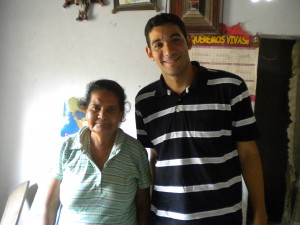 (Emerita and Dr. Sorianao. Click here to read our patient profile on Emerita)
In November, 2010 Global Brigades put out a call to action to our supporters, friends, and family asking for donations to help Emerita receive critical surgery. During childbirth, Emerita suffered from a total uterine prolapse (the uterus descending into the vaginal canal) resulting in constant pain, infections, and an inability to control urine from leaking. Emerita lived with this debilitating and painful condition for over ten years, but thanks to YOUR help Emerita's suffering is now over!
On Monday, April 11th, the Global Brigades team took Emerita to the Baptist Hospital in Guimaca, Honduras where the organization Baptist Medical Dental International brought in a team of gynecologists and surgeons to perform urgent procedures on impoverished patients in need of critical care. The doctors from this organization graciously provided their services for free, while we relied on our generous donors to cover the costs of the anesthesiologist, nights in the hospital, and transportation for pre & post care appointments.
The doctors we worked with were excited to help Emerita and scheduled her surgery for the following morning. Global Brigades arranged accommodations at a nearby hotel for Emerita and her daughter-in-law, who accompanied her for the surgery. The two of them returned to the clinic on Tuesday morning for the surgery. There were no complications and the procedure went very well. Emerita was in recovery by noon that day.
On Wednesday April 13th, our team returned to pick up Emerita. Upon our arrival, we were happy to learn that she had already been walking around on her own and was in high spirits. Emerita was brought back to her community in Honduras where she has been able to make a full recovery. Our team has since gone back to her home to follow up and have a few words with her. On May 17th, we paid a visit to Emerita's community and we were happy to find her up and well. In fact, we all shared a good chuckle when Emerita demanded that we let her put on a different shirt before taking a picture with her.
In a discussion with Dr. Soriano (Program Lead for Global Brigades' Community Health Workers Program), Emerita happily exclaimed that she has been feeling great and is so happy to be able to do things that had given her trouble before, such as simply walking and going up stairs. She is very thankful to have received this care and expressed how grateful she is for the people who helped give her this care. Emerita can move about freely and no longer is bothered by pain and discomfort.
Global Brigades sincerely thanks all who made this surgery a reality for Emerita. Your extraordinary kindness and generosity has helped to change this woman's life.
Support the Patient Referral Program: Please click here to read about more patients that need your help.