In December, Microfinance Brigades in Honduras kicked off the busy brigade season with groups from USC and UC Berkeley. USC worked in the community of El Junco, spending the week giving financial consultations to 13 families and providing recommendations to the board of the Caja Rural (local community bank) to enhance their membership. The Brigade volunteers decided to allocate their Community Investment Fund (CIF) to the purchasing of the land to build a meeting house for the Caja Rural in the community. Having a meeting house will increase the Caja's credibility and enhance the presence of its services. The remainder of the CIF will go towards general capitalization of the bank.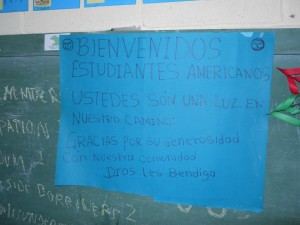 (A welcome sign that the community created to greet Brigaders. It reads: "American students, you are a light in our path. Thank you for your generosity with our community.")
UC Berkeley worked in the community of Pajarillos spending the week giving financial consultations to 6 families and recommendations to the Caja Rural board in regards to improving their loans policies and membership requirements. The Brigade allocated a portion of their CIF to a member of the community with an outstanding business plan to start a fish farm in the community and the remaining amount was given towards capital injection for the Caja's loan fund.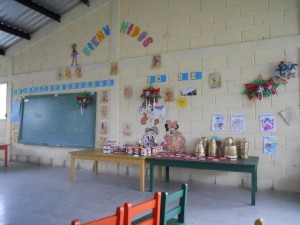 (A table of goodies for the volunteers: Women of the Caja Rural in El Junca combined forces to craft local artisan goods for the holidays to sell on the Brigade. The community also sold coffee, nacatamales, and sweets to the UCS volunteers).