RNs and GB
Each year, our in-country staff members around the world welcome both new and familiar faces to come together and implement sustainable change with. In Honduras, our local teams and partner community members have built an impactful, lasting relationship with members of the New York - Vermont Nurses Unite chapter. In honor of National Nurses Week in the United States, we're highlighting their outstanding and long-standing chapter.
11 Years, 11 Brigades
In 2011, the NY-VT Nurses Unite chapter gathered registered nurses and made their way to rural Honduras to set up clinics in partner communities that otherwise have limited to no access to health care. Since then, they've grown their chapter, as well as their relationships with our in-country teams and members of involved partner communities. They've returned annually to continue furthering their chapter's influence, completing a total of 11 Brigades - wow!
10 years later, in June 2021, the chapter kicked off the return of in-person Medical Brigades, alongside Oklahoma University's Medical Chapter, after our switch to virtual programming in 2020 amidst the Covid-19 pandemic. The chapter completed their most recent Medical Brigade in Honduras this past March with plans to return in March 2023.
Making Memories and an Impact
"I have had the honor of working alongside Global Brigades staff for the last 11 years. I fell in love with Honduras in March 2011 and never looked back! There are so many stories, so many memories, so many forever friendships formed over the years. Stories of my Brigades spill over into day-to-day conversations with all different people in my life. I can't begin to convey the sheer admiration, respect, and love I have for all the people of Honduras. Developing, and leading this Brigade year after year has touched my heart and the experience has shown me something new and refreshing that I will never forget." - Amy Russell, NY-VT Nurses Unite Chapter President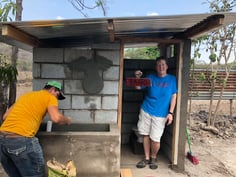 RN Amy Russell, NY-VT Nurses Unite Chapter President in Honduras
"My son and I signed up for Global Brigades in June 2021, the first Brigade since the start of Covid. Not only did I get to spend quality time with my 18 year old son who was soon graduating high school, but we were able to experience the joy of helping a community/culture that really needed it. The memories we have are irreplaceable!" - Amy Walker, NY-VT Nurses Unite Chapter Member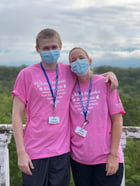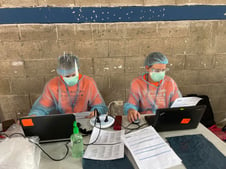 RN Amy Walker and son on NY-VT's June 2021 Honduras Medical Brigade
Thank you for your dedication to furthering the Global Brigades mission, NY-VT Nurses Unite and thank you to nurses all around the world for all that you do!