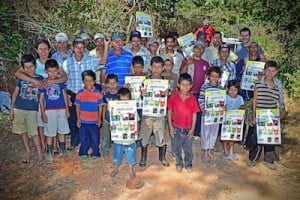 Emerging Opportunities for Sustainability (EOS) International is a non-profit organization that was started by a group of engineers from Iowa State University in 2008 to promote appropriate technology in the developing world.
EOS co-founder Wesley Meier, a previous Peace Corps volunteer in Nicaragua, has been working to help research ways that technologies can be used to help pull people out of poverty while improving their health and the environment. Currently EOS sells 5 technologies (biodigesters, community scale water chlorinator systems, improved ovens, drip irrigation systems, and solar panels) to low-income families making less than $2 to $3 a day. To date, over 550 technologies have been installed in homes throughout rural areas of Nicaragua.
Recently, Wesley had his business plan selected as the winner in the Alleviating Poverty Through Entrepreneurship (APTE)
Summit's first ever Social Entrepreneurship Business Plan Competition, which was sponsored by Global Brigades.
Wesley's business plan aims to support the expansion of EOS's reach to new communities. The goal is to identify local community leaders and sell them projects at a subsidized cost so as to get the community familiar with the work of EOS and to see the projects firsthand. Once they have this kind of community visibility and buy-in, the team aims to harness the support of community leaders to reach more community members and neighboring communities.
In conjunction with implementing appropriate technologies in rural communities, EOS is focused on providing education and follow-up to ensure that community members know how to operate and maintain their projects well into the future. Locally sourced materials are used in the construction of all projects so that should any repairs be necessary, community members themselves can make them.
Global Brigades is excited to support EOS through our Idea Incubation, which supports Members with new or innovative ideas to solve social challenges. Click here to watch a short video from EOS or visit their website to see how you can get involved in bringing appropriate technology to the developing world.