Exciting news! Global Medical Brigades is now offering add-on enrichment activities for volunteers to fully immerse themselves in the country they are brigading to. Have you heard about it yet?

Let's explore together why adding an enrichment activity to your Ghana Brigade itinerary can make a huge difference. Check out these 5 reasons to include an add-on in your Ghana itinerary and create greater impact!

1. Explore Public Health in Ghana

Public health projects in partner communities can have a significant impact on preventing diseases by promoting healthier public health practices. Immerse yourself in the community by visiting Public Health projects or a school in rural Ghana and gain a deeper understanding of the impact these projects have on preventing diseases and promoting healthier public health practices. Join maintenance work and experience the everyday life of community members firsthand.

For an even deeper immersion in the community, you have the opportunity to work alongside Public Health technicians and help implement biodigester constructions in rural areas. These biodigesters serve as sustainable waste and sewerage management systems, allowing for the biological digestion of organic material. It's a unique experience that not only educates, but also promotes sustainable practices.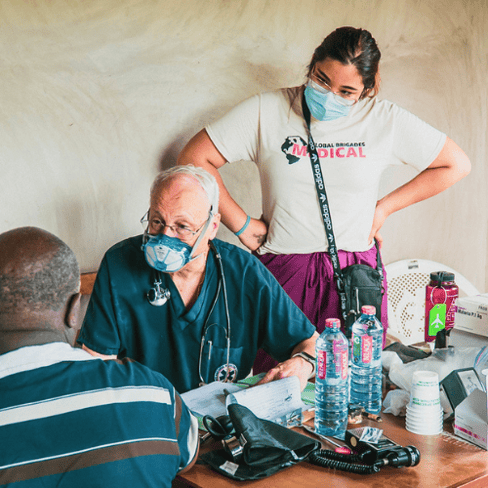 2. Immerse yourself in a Ghanaian hospital

We understand the deep commitment of Global Medical Brigades volunteers to create positive change in vulnerable communities worldwide. That's why we are thrilled to offer the opportunity to shadow doctors for two days on hospital rotations at the Cape Coast Teaching Hospital. This program aims to deepen the core initiative of our holistic model to deliver sustainable healthcare systems in Ghana, and we are honored to have you as a part of it.

Get ready to gain invaluable experience by observing various procedures and surgeries in hospitals, all while learning from qualified healthcare professionals. This program is designed to immerse you in the existing healthcare network in Ghana and deepen our core initiative to deliver sustainable healthcare systems. Your donations will also contribute to purchasing much-needed hospital supplies and investing in the infrastructure of the various hospitals we have partnered with. Let's make a positive impact together.

3. Explore more of Ghana

Get ready to experience breathtaking scenery at the Kakum National Park and Canopy Walkway, nestled in the Assin Attandanso Reserve. The park's most popular attraction is its 7 suspension bridges that form a 333-meter-long canopy walkway, suspended up to 27 meters above the forest floor of trees over 300 years old.

Nature lovers will be delighted to know that the Kakum National Park and Canopy Walkway is home to over 300 bird species, including eight of world conservation interest. In addition, forest elephants, leopards, bongos, bushbucks, and primates can be found in the park, but spotting them can be challenging. Over 600 species of butterflies have also been documented in the area, making it a haven for nature enthusiasts. Learn more of Ghana and it's history through nature.
4. Learn about healthcare in Ghana
Take part in making a difference in rural communities in Ghana by visiting CHPS (Community Health and Planning Services). You can participate in structural maintenance work or delivering supplies and medicines to help improve healthcare in these areas. This is a great opportunity to truly make an impact while understanding challenges and strategies being implemented in Ghana.
It is important to note that CHPS (Community Health and Planning Services) plays a vital role in providing healthcare services at the community level and is a fundamental element of Ghana's health service and planning strategy.
5. Enhance your Brigade itinerary
The Ghana medical team has designed an itinerary that aims to have the greatest impact during your brigade. During your experience you will have preparation and context days and then you will have clinic days.

During the clinic days, you will have the opportunity to connect with members of rural Ghanaian communities through shadowing first-hand consultations, while also learning from local pharmacy staff and giving educational talks on topics relevant to community members health. Additionally, you may have the chance to accompany doctors on home visits if needed. It's a unique experience that allows you to make a meaningful impact while learning from and connecting with the community. By participating in these activities, volunteers can elevate their impact and make a lasting difference in healthcare.

By adding these enriching activities, you can truly enhance your impact and make a lasting difference in healthcare in Ghana. Join us in elevating your Brigade itinerary and making a greater impact.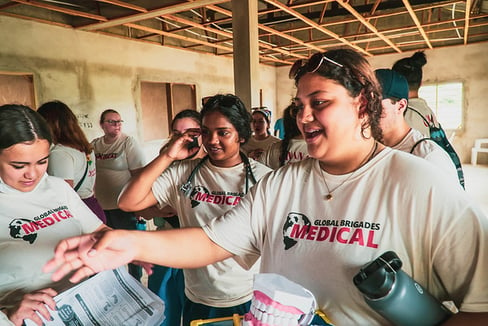 As you can see, there are many reasons for you to go beyond your Brigade itinerary and immerse yourself in Ghana. Don't miss the chance to learn more about these Ghana Brigades add on! Interested in joining Global Medical Brigade? Visit www.medicalbrigades.org to learn more!