Written by Taylor Clouse, Marketing Associate
Have you ever wanted to show everyone all about your brigade and realize you have so many videos and pictures? We know that sometimes it is challenging to incorporate your brigade experience in one social media post, which is why we want you to be a part of our new initiative! Starting March 1, 2020, we will be taking submissions from volunteers to do official Global Brigades Instagram Story takeovers! We want to showcase you, our amazing volunteers, and demonstrate to our audience what a brigade is like from the perspective of a student like yourself! Our goal is for you to create an interactive IG story that will highlight your brigade and the positive impact you're making as a volunteer alongside local staff and partner communities.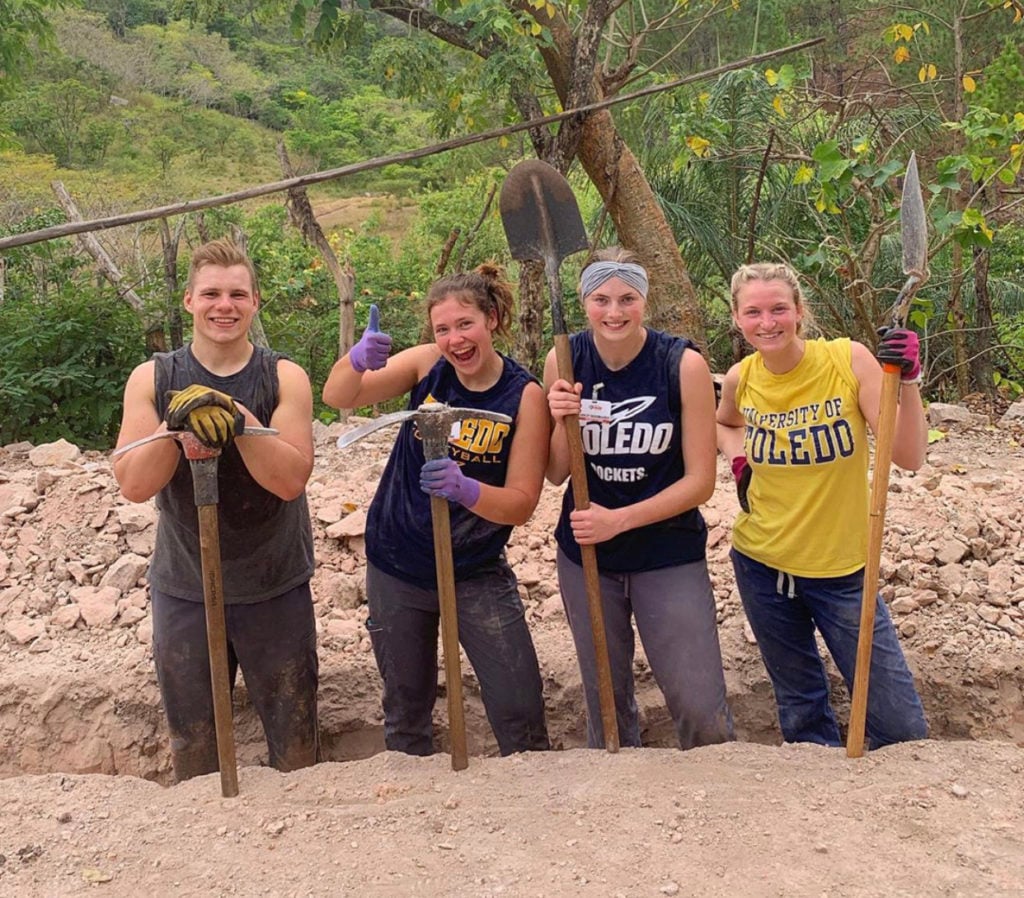 Our goal is to get more people involved in the Global Brigades movement, and we think you can help us do that. The best submissions will be featured and highlighted on the official Global Brigades Instagram account. Global Brigades Staff will utilize the outline below to choose the best volunteer stories to publish. Questions can be submitted to alexa.schmidt@globalbrigades.org. Be sure to include "VOLUNTEER TAKEOVER" in the subject line. Happy recording!
Instructions:
For your upcoming brigade, print out the outline below and plan your video content.
With the content you've captured, be sure it meets ALL of the guidelines listed.
Submit your content using the Volunteer Takeover Submission Form

Please note that there is only one box for an attachment but you are able to upload multiple images/videos

If you have been chosen to be featured, you will receive an email from the Marketing Team and a confirmation of the date your content will be published.
General Requirements:
There should be at least 10 videos/images included in your submission
There should be no texts on any of the videos/images
Videos must all be recorded in portrait mode
Videos must be submitted in MP4 or MOV format
Any data/information needs to be accurate – if you have questions about accuracy, please email alexa.schmidt@globalbrigades.org with the subject line VOLUNTEER TAKEOVER QUESTION.
Content must follow Global Brigades' "Three C's"
No unethical footage (No photos of procedures being done – dental station, please ensure that all questions and guidelines in Three C's graphic are being followed)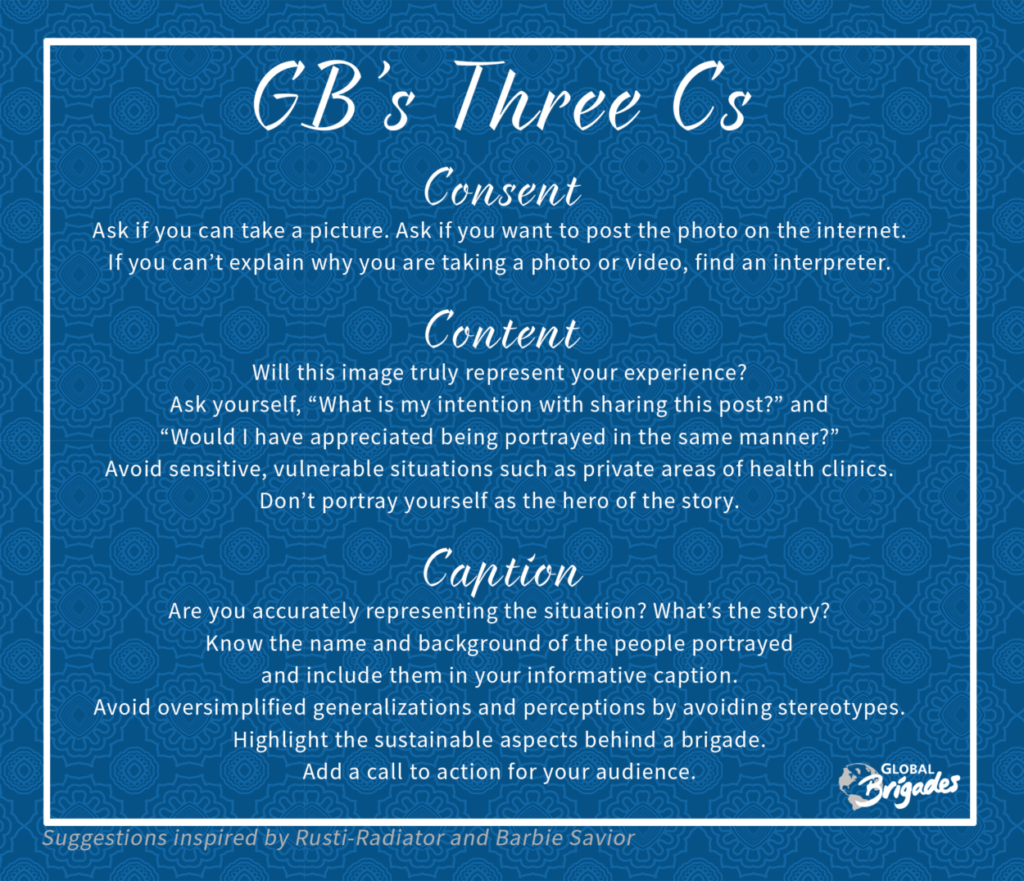 Outline:
1 page (Video – 15 seconds)

Introduction (your name, university, brigade type, country & community name(s))
2-3 pages (Video/Image)

Take an image of your brigade group
Show where you are staying or the food you are eating
Ask your peers what they are most excited for and what expectations they have
1-2 pages (Video/Image)

Show/explain some activities from Day 2
Explain how you're making an impact during Day 2
Give a shout out to a local staff member
1-2 pages (Video/Image)

Show/explain some activities from Day 3
Show your peers working hard on Day 3
Ask a community member how they've been impacted by GB (Testimonial)
1-2 pages (Video/Image)

Show/explain some activities from Day 4
Show a tender moment from Day 4 (Provide context in your submission about who is featured)
Give a shout out to an interpreter/translator on your brigade
2-3 pages (Video/Image)

Show you and your peers doing activities from Day 5 or 6 (or both)
Show a happy moment from Day 5 or 6
Give a shout out to your brigade coordinator
2-3 pages (Video – 30 to 45 seconds)

Interview your peers – 2 or 3

Ask questions like "What was your favorite part of the brigade? Why would you recommend this to your friends?, What impacted you the most?, What is something you want future volunteers to know?"
2-3 pages (Video – 30 to 60 seconds)

Post-brigade reflections – answer one or two of the following

Tell viewers what you thought!

How did you feel about your experience?
What did you learn?
How has this impacted you?
What are some tips and tricks for first-time brigaders?
How do you plan to incorporate what you learned back on your university and in your Chapter?
Do you have any post-brigade meetings planned?
What did you expect your experience to be versus how it really was?
What perspective did you gain on your brigade?
We can't wait to see what you capture during your brigade! Submit your content here.