Emmanuel Mensah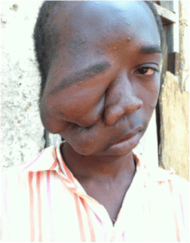 Background: Emmanuel is a 17 year old boy with Neurofibromatosis. This genetically inherited disorder has resulted in the growth of multiple tumors, including a large tumor on his face. This not only causes Emmanuel large amounts of discomfort, but also affects his confidence. Emmanuel is currently being sponsored by Penn State University and thanks to their hard work, dedication and fundraising efforts, in conjunction with the Ghana Referral Team, Emmanuel will be receiving surgery this December!
Exciting Partnership: After several consultations and required tests, Emmanuel has been cleared for surgery. He requires one further Anesthetic consultation on December 6th, after which he will proceed with Plastic surgery between December 6th and 14th. Confirmation of the exact date will occur in the upcoming days.
In order to expedite and fund Emmanuel's plastic surgery, Global Brigades Ghana has teamed with the Graft Foundation in Ghana. The Graft Foundation works to do the following:
Support the medical needs of victims of trauma from disasters, burns and road accidents.
Support treatment of children born with birth defects correctable by plastic surgery.
Support Reconstruction for Mastectomy Patients
Graft Hospital Development.
Medical education and research.
Investments to support delivery and promotion of health.
With the support of the Graft Foundation, Emmanuel's Plastic surgery to remove his facial tumor will be done completely free of charge and be entirely funded by their organization. The sponsorship facilitated through Global Brigades will cover the additional costs associated with having the surgery including food, accommodation and follow up appointments.
Moving Forward: As a child, Emmanuel had an accident where he broke his ankle and had it surgically repaired using pins. Since this time, a neurofibroma (tumor) has developed in the same location putting pressure on the previous injury. This pressure has caused the bone to re-fracture and now requires Orthopedic surgery. Because of the complicated nature of both surgeries, they cannot be performed together. This means Emmanuel will require Plastic surgery to remove the tumor on his face, as well as Orthopedic surgery to repair his ankle. We can continue to fundraise for Emmanuel, we support him beyond his Facial Plastic surgery!
Adom Grace
Background: Adom Grace came under the care of Global Brigades Ghana in July of 2012 as a special social welfare case. Adom was brought to Cape Coast Regional Hospital's Pediatric Intensive Care Unit, by a Global Brigades Intern, after being left abandoned at Esuehysia Junction in the Ekumfi District. At this time Adom was incredibly malnourished and required a full month of hospitalization before she was stable enough to be discharged. For the next year Adom Grace was under the around-the-clock care of a lady in Cape Coast, Maame Yaaba. Adom continued to gain weight, but remained non-verbal, epileptic and could not control her bowel movements. Thanks to the loving support of both her sponsor and Maame Yaaba, Adom was able to maintain her weight, have her epilepsy contolled by medication and obtain an official birth certificate. The year spent with Maame Yaaba prepared Adom for the next phase in her life.
Adom's New Home: The past two months have been an incredibly busy and exciting time in Adom's life. On Friday, September 6, 2013 Adom moved into Royal Seed Home (RSH) in Kasoa, a city east of Cape Coast. RSH is a private orphanage, which was founded by a wonderful lady named Naomi. RSH is a safe environment for Adom to learn and grow. Here she is provided with a place to stay, 24-hour care, food, facilitation of health care, enrollment in school, and people to call her family. Adom is always surrounded by other people at RSH, which allows for her social and motor skills to flourish! At long last, Adom now has a wonderful and permanent home!
Royal Seed Home provides schooling for every child, regardless of their special needs. Therefore, Adom currently attends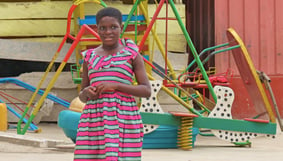 school with younger children in a nursery/kindergarten class. The teacher keeps her busy with activities to help improve her cognitive and motor capabilities. To see her progression from where her story began to now, actively participating in a classroom, is truly remarkable! We cannot wait to continue to monitor Adom's progress.
Moving Forward: The cost for Adom to stay at RSH is 400 GHC per month, this is a substantial reduction from her previous home, which cost 1000 GHC a month, and a large step towards a long-term solution for Adom's continued care. This 400 GHC includes housing, food, pampers, bath supplies, health care including seizure medication, 24-hour care givers, schooling and all necessary school supplies. Global Brigades thanks Adom Grace's amazing sponsors, Tia Landrom and Jordan Ring, for their support. The GB team is so grateful that Adom has come such a long way all thanks to you! To contribute to Adom's future, click here.
Sarah Ansah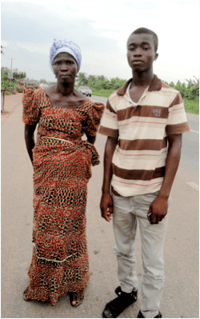 Background: Sarah is a mother who attended a clinic in Akwakrom and works in agriculture. She has a large incisional hernia as a result of a hysterectomy surgery she had several years ago. Thanks to the sponsorship of UC Davis Medical Brigades, Sarah has completed all the necessary diagnostic testing and will be able to have her hernia surgery.
Scheduled Surgery: Sarah has received her new surgical date. She is scheduled to have the Incisional Hernia Repair Surgery on December 11, 2013 and she will be admitted to the hospital two days prior to her surgery on December 9, 2013, as is standard procedure in Ghana. Sarah will also have to attend one more surgical consultation one week before her surgery at Korle Bu Hospital in Accra.
Moving Forward: We are in need of your support! UC Davis is very close to reaching their fundraising goal, but they need help from you! You can find out more about Sarah's case and contribute to support her surgery here. After a successful surgery, the Global Brigades Referral Team will follow-up with Sarah to ensure no complications arise and she fully recovers before her case is closed.