By GB Ghana Program Coordinator, John Aryee
Living in Rural Ghana is a one of a kind of experience. While Ghana faces some challenges, the country more than makes up for it with charm, friendliness, and originality. Eminently laid back and welcoming, it is the perfect place for those seeking unique experiences and wanting a fresh perspective of the world.
Ghana faces many of the challenges common amongst developing countries including lack of natural resources and a majority of the population living in poverty. Also, scarcity of running water, access to economic development, inadequate power (electricity) supply, and access to toilet facilities are also challenges that rural communities in the country face as well. As a Global Brigades Ghana Program Coordinator, I am able to identify a community of maximum priority considering a set of factors including education, access to running water, health, socio-economic situation, and environmental awareness.
After evaluating these factors, the selected community works with the Global Brigades team and volunteers to implement the Holistic Model to support the community in building infrastructure projects. Throughout this process, Global Brigades seeks the sustainability of support from long-term relationships with communities in Ghana and by empowering local leadership to help communities reach their education, health, economic development, and WASH goals. It's very important for us to recognize the contributions that community members, volunteers, and the local GB team have made so far in communities like Ekumpoano and Suprudo.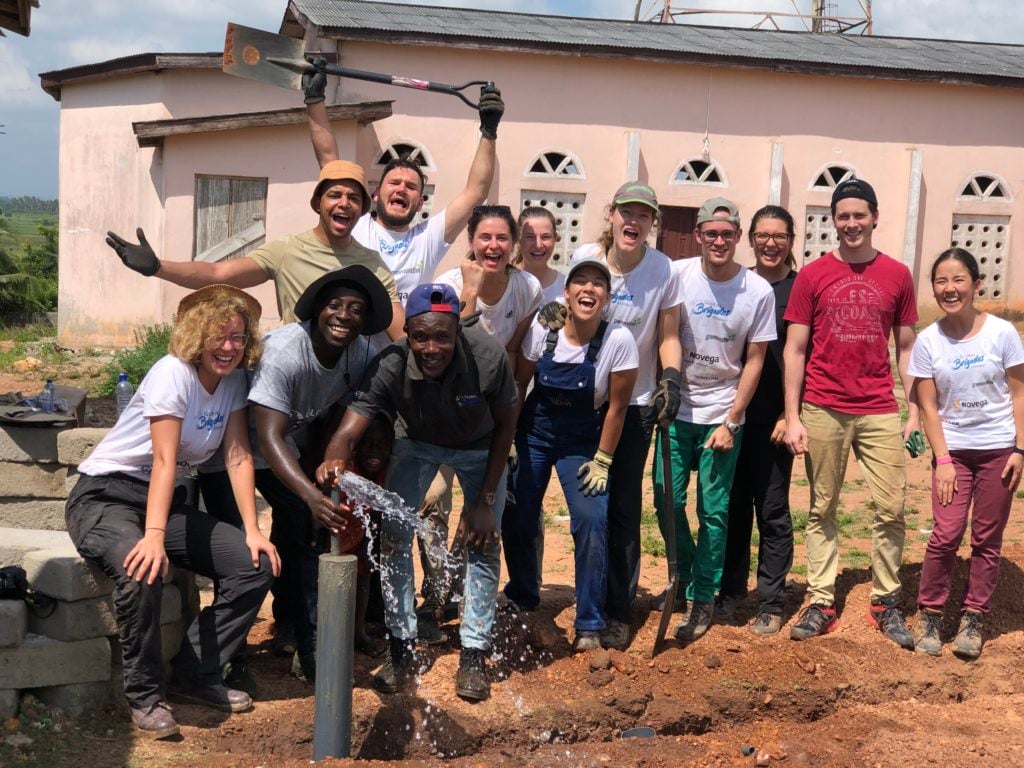 Education
Education is limited in rural Ghana. In rural communities like Ekumpoano and Suprudo in the Ekumfi District of central region Ghana, there is far less opportunity for quality education, and the curriculum is limited by the available resources. In urban communities and towns, there are several teachers, concrete school buildings with roofs, and chairs. However, In the rural areas, one or two teachers have to teach in tumble-down buildings with leaking thatched roofs. Children have to walk long distances to get to school. Many children usually finish only primary education. A child who wants to go on to a Senior High School will have to travel to the nearest town, possibly several kilometers away. Only about two–thirds of people in Ghana can read and write, but people are very excited about getting educated.
Currently what Global Brigades does is send brigade volunteers led by in-country program coordinators to communities like Ekumpoano and Suprudo to take school children through proper handwashing methods, proper water storage, personal hygiene, environmental sanitation and health, and social effects of open defecation. The education that Global Brigades gives is important because it builds student's knowledge, skills, and positive attitudes about public health. Global Brigades education teaches about physical, mental, emotional, and social health. It motivates students to improve and maintain their health, prevent disease, and reduce risky behaviors. Global Brigades education curriculum and instruction help students to learn skills so that they will use them to make healthy choices throughout their lifetime.
Health
Health care varies throughout Ghana. Urban centers are well served and contain most of the hospitals, clinics, and pharmacies in the country. Rural areas often have a lack of access to health care. Patients in these areas either rely on traditional medicine or travel great distances for health care. Four to five rural communities usually share one Community-Based Health Planning and Services (CHPS). CHPS is a national strategy to deliver essential community-based health services involving health planning and service delivery to communities, its primary focus is communities in deprived sub-districts and to bring health services closer. Because of the distance and expenses involved, community members hardly ever go to the CHPS clinic or hospital and would rather buy medication from traveling salesmen who pass through the communities on their bicycles with a case full of medicine strapped to the saddle. They sell antibiotics, aspirin, ointments, and quinine.
Global Brigades provides preventative healthcare services for free to rural communities in partnership with the Ghana Health Service. To develop an understanding of community needs and healthcare access, GB volunteers have the opportunity to visit a local healthcare facility. Volunteers build the capacity of Community Health Workers (CHWs) on chronic illness screening techniques. During brigade clinic days, volunteers then work with healthcare professionals, patients are screened for chronic diseases while licensed physicians provide consults and prescribe treatments for those diagnosed with a chronic illness. The importance of Global Brigades services to communities in rural Ghana empowers increased access to healthcare through the use of evidence-based preventive services.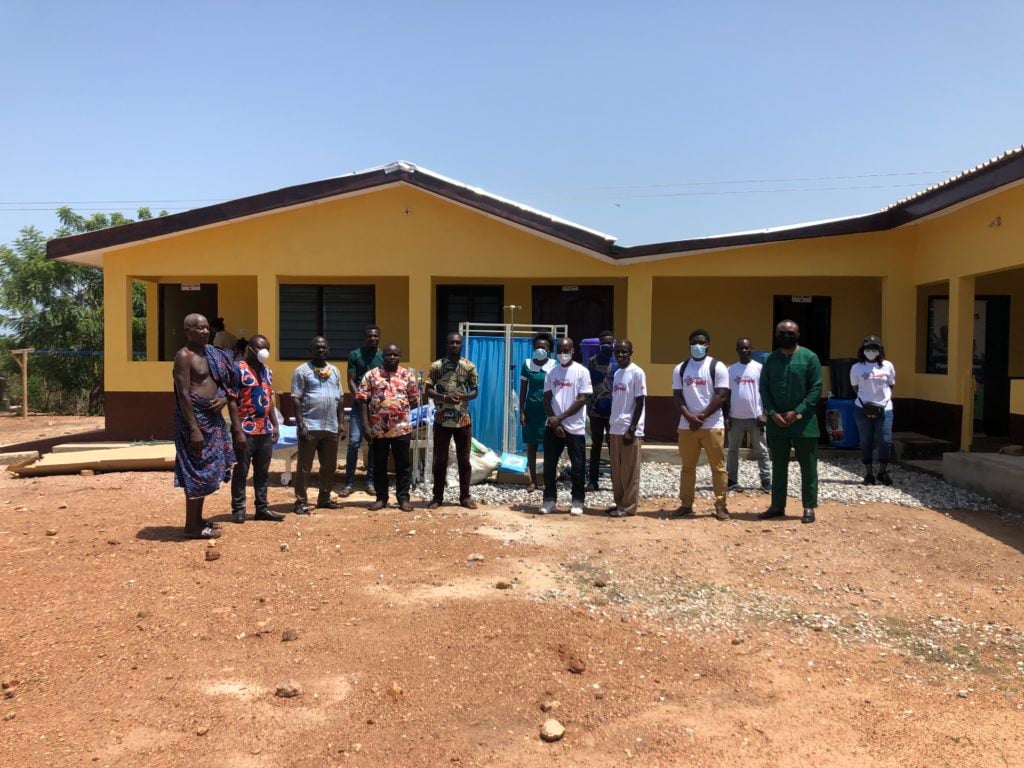 Economic Development
Along with education, economic development is also limited in rural Ghana. In rural communities, community members typically don't have access to banks or other formal financial services. In urban communities and towns, there are several banks and easy access to financial capital and loans. While financial institutions and digital financial service providers continue to increase the reach of formal financial services, offering such services to rural populations is costly. A great number of rural Ghanaians remain unbanked. Without formal financial services such as credit and savings, it is difficult for many to afford capital investments for their farms or businesses, or to pay for unexpected events like illnesses or funerals. Traditional community-saving methods commonly available are the community savings and loan associations (SLA). An SLA Group comprises 15–25 self-selected individuals who save together and take small loans from those savings. Savings Groups provide members the opportunity to save frequently in small amounts, access to credit on flexible terms, and a basic form of insurance. They are owned and operated by their members; they are, by design, financially and institutionally sustainable, and continue to operate independently after a 9–12 weeks training period.
Global Brigades works in rural Ghanaian communities like Ekumpoano and Suprudo and focuses on community-based micro-enterprise development. Volunteers collaborate with community members to resolve fundamental challenges surrounding micro-enterprises by implementing practical business solutions that improve the greater community. Global Brigades also gives volunteers hands-on experience in collaborating with program coordinators and community leaders. They provide business workshops and make a community investment at the end of each brigade to give the community additional financial capital to implement the desired changes. By inspiring micro-entrepreneurs, Global Brigades focuses on empowering volunteers and communities alike to be a catalyst for change.
WASH (Water, Sanitation, & Hygiene)
Life in rural Ghana can be described as simple and there is a scarcity of running water and access to toilet facilities. Nkwantanan is a rural community in the Abura Asebu Kwamankese (AAK) District in the Central Region where Global Brigade works. The young girls in this community have to wake up early in the morning before school, to go to the nearest river to collect water. The nearest river can sometimes be up to 30 minutes away and the water collection process has to be done at least four to five times a day. Ninety-three percent of the urban population has access to safe drinking water compared to thirty-five percent of the rural population. Sanitation and health provisions are twice as good in the towns as in the rural communities. This fact comes as no surprise especially since most rural communities still rely on the water in nearby rivers. Although Global Brigades works in some rural communities to help mitigate the issue, there are many rural communities that still live without clean water. In the rural Ghanaian community Ekumpoano in the Ekumfi district in the Central Region, where Global Brigades works, less than 1% of 505 homes in the community have access to toilet facilities. The remaining 99% use the beach and other open spaces to attend to nature's call with serious environmental, health, and social consequences. Many factors including poverty, lack of education about low-cost toilet technologies, and low priority given to the ownership of toilets account for this situation.
With the help of Global Brigades led by its program coordinators and brigade volunteers, 76 households now have pour-flush water closet biogas digester toilets installed plus one toilet for the Community-Based Health Planning and Services (CHPS) clinic. Additionally, five community-level standpipes and three home water connections, and one public school water connection were constructed. These facilities were created to empower rural communities to prevent common illnesses in alignment with UN Sustainable Development Goal 6: Clean Water and Sanitation. To work toward this goal, Global Brigades' main focus is to develop in-home infrastructure, train community leadership, and provide public health and water education. Global Brigades works tirelessly to get sponsorships and donations to improve access to clean water in Nkwantanan and Ekumpoano.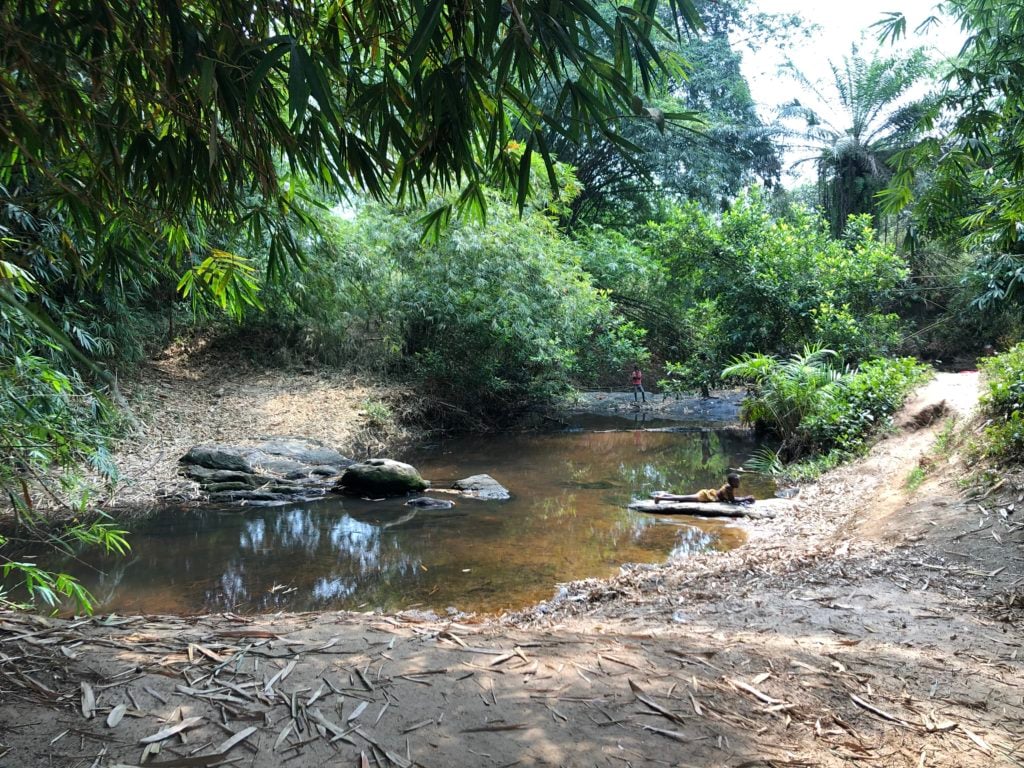 As you can see from these updates, there have been great contributions made by community members, GB team members, and volunteers. While rural communities in Ghana may face challenges in health, education, WASH, and economic development, Global Brigades works with community members to focus on empowering volunteers and communities alike to be a catalyst for change. While life in rural Ghana may seem tough, continuous work is being done to improve the situation. Global Brigades is active in the country trying to empower the rural communities. If you'd like to get involved and make an impact in rural communities in Ghana you can donate or start a Chapter, or become a Chapter Leader. Becoming a Chapter Leader provides incredible leadership experience and a chance to inspire other students on your campus to make an impact.