Updates from the Field: Microfinance Workshop in Ghana
By Clare McInerney
Last week in Ghana, GB staff got together with the leadership board members of both the Ekotsi and Egyankwa Community Development Funds for a joint workshop on Fund management and a refresher course on basic accounting practices. Following the winter brigade season, Microfinance Field Officer William Offei identified an interest and need for a collaborative review of the processes and paperwork essential to the successful management of the Development Funds.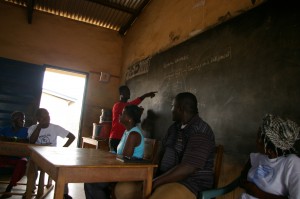 Together with Ghana Country Director Asamoah and GB accountant Aikins, the team spent over 2 hours working with Fund leaders from both communities to review and practice functions such as opening and closing a savings account and rules and guidelines for client deposits and withdrawals. Aikins presented on accounting principals related to balancing the ledger books of Fund inflows and outflows and the importance of accurate daily transaction records. Topics relating to general operations were also covered, such as organizing a new filing system (made possible by the use of CIF funds of recent brigades to help build shelving systems for the Fund offices) and the importance of approving appropriate guarantors for loans within the community.
Asamoah spoke on the importance of strong leadership within the Fund and members of the Ekotsi Fund advised their peers in Egyankwa on working out an effective method of daily time scheduling so that each member of the leadership participates in the Fund during office hours and shares the time commitment evenly.
GB staff saw a renewed enthusiasm from Fund leaders in both communities following the progress of the winter brigades. Given the rapid expansion of the Microfinance program in Ghana, the in-country team will be looking to train and develop a new Community Development Fund in the coming months before summer brigades. After seeing the inspiring progress made by leaders at last week's workshop, peer-to-peer knowledge shares and collaborations in training and leadership development will be an important aspect of all future program implementation.