Written by Maggie Sandoval, Global Brigades Program Associate Manager in Honduras
Pato-pato-ganzo: Spanish for duck-duck-goose; a game you've played ever since you were three. The game that stuck out on your brigade as a time to bond in community, to make connections, to see each other as humans, and to enjoy life together. Also a time to giggle, throw your head back laughing, and look into the eyes of a five-year-old community member from rural Honduras and see yourself as a child. The same wants, the same needs, the desire to feel important. The same right to education and learning more about the world around you (the world around them). The same feeling in your belly (in their belly) of longing to laugh and enjoy yourself (themself).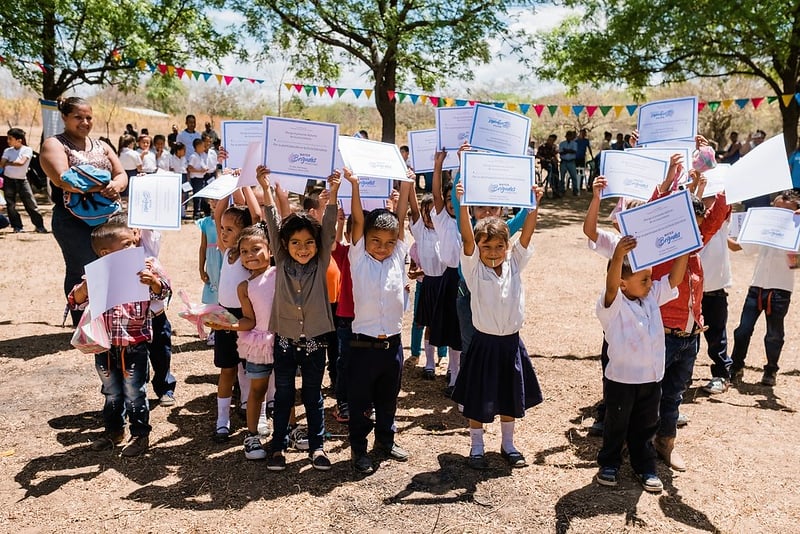 Picture yourself playing pato-pato-ganzo during children's charlas on Medical Brigade. It's a way to connect after educating the community's future leaders on key topics of hygiene, sanitation, and health. Charla, meaning chat in English (a term that we use to refer to education workshops), is a time for volunteers to make a lasting impact on a community — dental hygiene education will last much longer than a teeth cleaning. It's a way for volunteers to provide skills and knowledge — to empower — but also a way to connect.
Brushing your teeth: a skill that you learned when you were young. A skill that you were taught by someone advocating for your health and hygiene. A skill essential to keeping you healthy and encouraging positive self-esteem.
The importance of water: an essential that you learned the basics of ever since you can remember. Clean drinking water is vital to keep you hydrated, to keep you from facing daily illnesses and to keep you healthy. Water is also fundamental to ensuring the effectiveness of many medications you take.
Financial savings: a concept that perhaps you were educated on as a young adult by a role model in your life. A concept easy to pass up — easy to brush aside as spending becomes effortless. A concept that can make or break the well-being of your family if it is not instilled in you at a young age.
We have the opportunity to discuss these topics with children, to educate ourselves and pass that knowledge along to the next generation. We are impelled to provide a solid foundation of understanding to these pillars of life to improve our (and their) well-being, health, and opportunities for success.
Do you have a brigade coming up and are considering how to hold an engaging charla to effectively communicate this information? Try following these 8 steps to put together a successful charla:
Relate other information

: Pull information from past charlas or information they are already familiar with.

Gain attention

: Warm the class up to the theme — ease into the topic by making a connection to everyday life.

Inform the objective

: Keep the class curious about the topic of conversation.

Teach the simplest concepts

: Provide the foundation that can be built upon in the future.

Present stimulus

: Make it fun! Have the experience be something visually or tactically memorable.

Provide guidance

: Provide all of the correct information — break it down into subtopics.

Elicit performance

: Ensure that the students learned what was taught and can apply it to everyday life.

Enhance retention

: Test the knowledge that was gained!
Now, picture yourself on your upcoming Medical Brigade. You are sitting in a circle with children from a partner community, community health advocates and volunteers, and two of your closest friends, all with a toothbrush in hand. You and your fellow volunteers have spent weeks leading up to your brigade preparing this charla: it's impactful, it's engaging, it's more than just pato-pato-ganzo. It's a sustainable impact on the next generation of a community.
"In general, communities are not favored with appropriate education — specifically on topics of water and sanitation — these are the key elements of our projects — the sustainability… Less and less organizations work with communities from square one. Charlas stay with the communities — leaving concepts that will create awareness of the challenges within the community — we can't address problems unless the community themselves recognize that these are challenges that impact their health and well-being." – Marco Landa, WASH and Engineering Program Director in Honduras
Involved in a brigade already? Reach out to your brigade leader to brainstorm ways to plan for your upcoming charla. Not involved in a brigade already? Click here to find a Chapter near you or contact newchapter@globalbrigades.org if you are interested in starting a Global Brigades Chapter at your university.