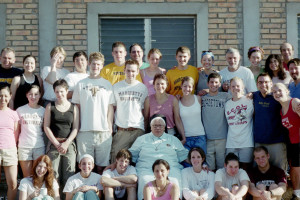 It's hard to believe that what is now the world's largest student-led global health and sustainable development organization first began 10 years ago with only a handful of students from Marquette University. The story of how Global Brigades first began highlights how ordinary college students, given the right amount of passion and dedication, can spark change on a global scale.
10 years later we are thrilled to report that what started with about 15 students from Marquette in one Honduran community, has changed the lives of nearly 30,000 volunteers and empowered hundreds of thousands of community members in Honduras, Panama, Nicaragua, and Ghana!
To see how it all began, we have to travel back to 2002, when Jeff Bodle was a Marquette undergrad with a simple plan: to round up a few friends and doctors to make a trip down to Honduras to provide basic medical care to those in need. Jeff was able to rope in fellow Marquette undergrad Shital Chauhan, who was then studying Health Sciences, to help him with the recruitment process. Shital recalls the experience as "extremely grassroots; we went door-to-door, doctor office to doctor office". In the end, the duo was able to convince enough of their classmates and friends to join them, along with doctors from Indiana and Milwaukee, for a one-week adventure to Honduras. Duffy Casey, a student at the University of Wisconsin – Stevens Point also joined the trip, as a close friend of Jeff Bodle. Duffy was in the process of applying to medical school and was looking for an experience to learn about health care abroad.
The array of experiences on that first trip in the spring of 2003, from schlepping heavy bags of medicine across rural Honduras, to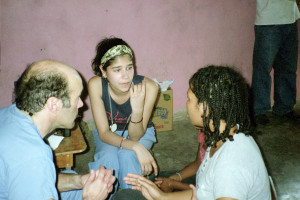 providing educational workshops on health and hygiene to community members, left a strong impression on the Marquette volunteers. But most importantly, Shital remembers the tremendous amount of learning that took place simply from the unique experience of being able to shadow doctors in the field. Not to mention, the life-long relationships that were made with Co-Founder Quique Rodriguez and the children of Sociedad Amigos de los Niños.
Upon their return, the group immediately began the conversation of starting something deeper: a way to engage students year-round in making an impact in international health and development. With the support of key faculty members, including Dr. William Cullinan, Dr. Chuck Garven, Dr. John Stevens, Dr. Meg Smith, Dr. Toby Peters and Michelle Schuh, the first Global Brigades chapter was born on the Marquette campus. During this time, Duffy Cassey had moved down to Honduras to work alongside Quique in starting Global Brigades' operations, logistics, and community mobilization. While the Marquette team was helping to establish Global Brigades in the United States, Duffy and Quique were paving the way for in-country operations in Honduras.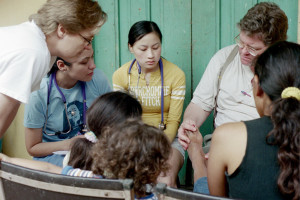 After playing a supportive role in building the Global Brigades club on campus, Dr. Toby Peters and Michelle Schuh recall their first in-country trip to Honduras in March 2004. Michelle fondly described the chaotic nature of those early days: "I remember going to one community, that for whatever reason, there was a miscommunication and they weren't expecting us so we couldn't have a Brigade that day. So we went sight seeing instead. I remember riding in the back of a pick up truck with the sugar cane kind of whipping us in the face". But despite the adventures, or misadventures, Global Brigades continued to grow, expand, and refine itself as an organization. Through student feedback and student led initiatives, Michelle also described the incredible growth of the organization as "lightening speed".
Toby also recalled the excitement of those early days: "We weren't sure exactly what to expect. We just kind of went in there with blind faith that we were going to help as we could." In addition to being struck by how welcoming the communities were, Toby also commented on the huge impact the doctors made in serving as mentors for Marquette students. As professors, Toby and Michelle have personally seen the impact a Brigade trip can make in the life of a student, from inspiring new career interests to renewing passion in approaching a chosen field.
Since those first trips, over 350 Marquette students have participated in a Brigade (with many having gone on 2 or 3 trips). The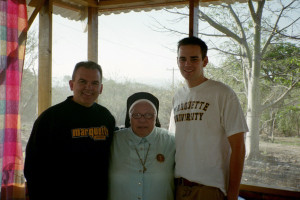 popularity of Global Brigades on the Marquette campus has been phenomenal, but Toby and Michelle describe it as an "easy sell." "The difficulty of explaining the experience and the enthusiasm and passion that students come back with after this experience, in and of itself, is the message that intrigues those who have an interest. And they want to have that experience too. Even though we've found over and over again it's always difficult to articulate just what that experience is. Those that are drawn in by that interest, and then have the experience, then understand that indeed their passion has been magnified exponentially as a result of the experience and their desire to serve others is even greater just from having participated in the Global Brigades journey," said Toby.
As we celebrate the 10-year anniversary of Global Brigades, we want to thank everyone that has been a part of this amazing journey. Because of the passion of chapter leaders, the Global Brigades movement has expanded from Marquette to more than 200 campuses across the U.S., Canada, the U.K., Ireland, Germany, and Switzerland, all working together to provide sustainable solutions in under-resourced communities. We look forward to another 10 years of working together, and to continuing to exponentially grow our impact!
–Written by Christina Hirsch, Communications Manager at Global Brigades