By Social Media Intern, Ellie Sabourin
Joining a Global Brigades Chapter can be one of the most life changing decisions that you'll make during your time in university. By joining a Chapter or even Becoming a Chapter President, you'll have the opportunity to build your leadership skills, meet like-minded individuals who are passionate about global impact, and have the opportunity brigade with GB and partner communities. Now, if you've already found a GB Chapter on your campus, then it's time to start spreading the word!
Did you know? Global Brigades sanctions the ability of Chapters to set up Chapter-branded accounts on Instagram, Facebook, Twitter, YouTube and other appropriate social media platforms. You can use your Chapter's social media accounts to recruit volunteers, keep your campus updated, and stay connected with the GB team!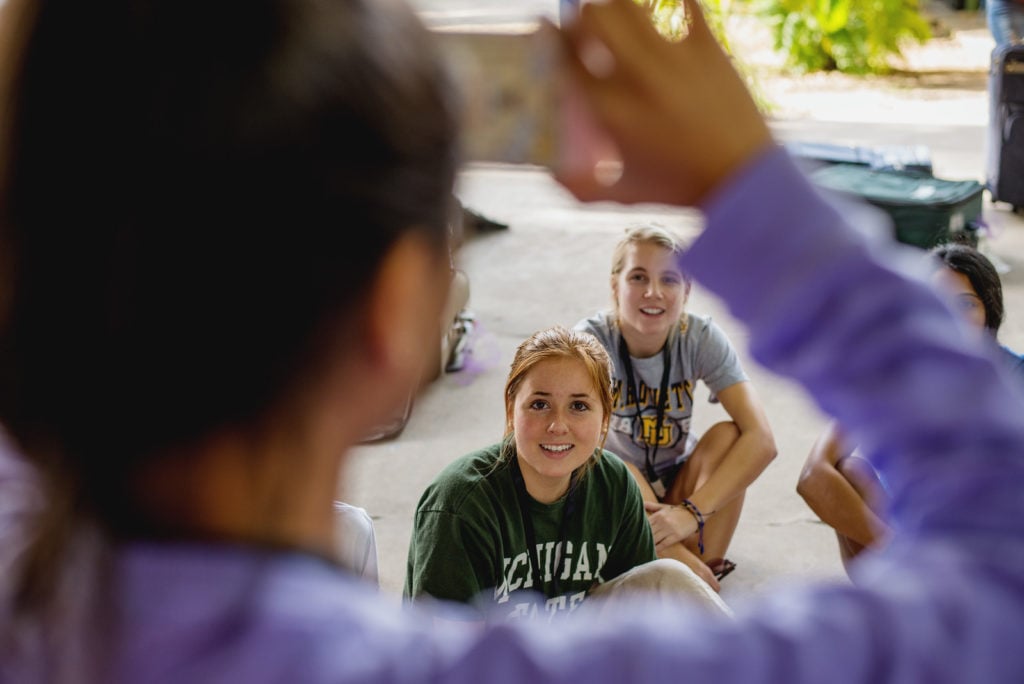 But, it's important to remember that social media account activity by university Chapters will be perceived as reflective of Global Brigades, and so it must maintain and display the core values, principles, tone, and interests of Global Brigades at large.
Whether you already have Chapter social media accounts or you are looking to start new ones, here are a few ideas and best practices to follow when sharing on your Chapter social media account:
Remember the mission, vision, and values of GB
GB's mission is to empower volunteers and under-resourced communities to resolve global health and economic disparities and inspire all involved to collaboratively work towards an equal world. Our vision is to improve quality of life, by igniting the largest student-led social responsibility movement on the planet.
Our core values include: Empowerment, Holistic Approach, Scalability, Sustainability, Financial Transparency, and Collaboration. Not sure what some of these mean? Unpack GB Buzzwords here.
GB's three Cs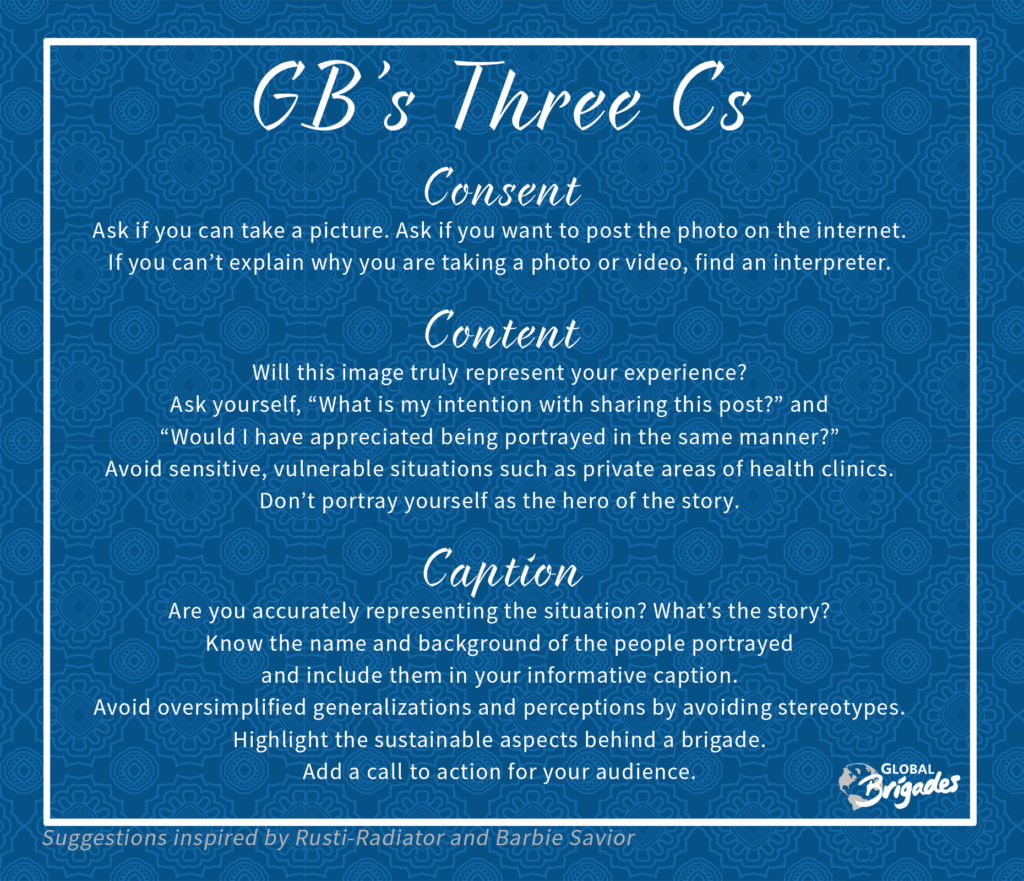 What's a great way to make sure you are always adhering to our mission, vision, and values? Follow GB's Three Cs!
(Hint: these tips are especially helpful for taking pictures while in-country on your brigade!)
Consent – Ask if you can take a picture. Ask if you want to post the photo on the Internet. If you can't explain why you are taking a photo or video, find an interpreter.
Content – Will this image truly represent your experience? Ask yourself, "What is my intention with sharing this post?" and "Would I have appreciated being portrayed in the same manner?" Avoid sensitive, vulnerable situations such as private areas of health clinics. Don't portray yourself as the hero of the story.
Caption – Are you accurately representing the situation? What's the story? Know the name and background of the people portrayed and include them in your informative caption. Avoid oversimplified generalizations and perceptions by avoiding stereotypes. Highlight the sustainable aspects behind a brigade. Add a call to action for your audience.
Have fun and ask us questions!
Now it's time to get creative and have fun building your Chapter social pages! For example, you can share information about meetings, fundraisers, include calls to action to donate, a countdown to your brigade, and update your campus on what a great GB Chapter you have! For more tips and content ideas, check out this helpful slidedeck.
If you have questions about a post or the branding guidelines, ask your Program Associate or send us a direct message on one of our @GlobalBrigades accounts. If you are looking for branding guidelines or marketing kits, please fill out this form on our website.
Submit your GB Story
Encourage your team to write their GB stories! Post a photo of your favorite brigade moment on Instagram and tag #MyGBStory. Be sure to follow the guidelines and caption it with details like the community, names of people in the photo, and an explanation of why the photo is significant to you.
By sharing your experience, you will not only be able to recruit more volunteers for next year, but will also have the opportunity to be shared on the @globalbrigades page to share your story with a wider audience!
Lastly, don't forget to tag us! We love to see what you and your Chapter are up to throughout the year. Did you know you can get featured on our Instagram Stories? Check out how to send us a GB Volunteer Takeover and don't forget to tag us in your posts!