Written by Taylor Clouse, GB Marketing Associate
Leadership Institutes are an amazing opportunity for volunteers! Participants are able to develop leadership skills, learn about all of the brigade programs, and develop lifelong friendships in just one week. Check out four ways that the Leadership Institutes can impact your future and support Global Brigades on your campus!
1. Witness ALL programs in action!
Through the Leadership Institute, you are able to work hand-in-hand with Global Brigades staff to monitor the impact that our volunteers make through, not just one, but ALL of our brigade programs! You have the opportunity to learn about the process of working with the community members and how each specific program is implemented in partner communities. In addition to this, you are able to listen to visit partner communities and listen to the community members share about how Global Brigades has impacted them directly!
2. Develop your leadership skills!
Not only do you get to see all the programs in action, but you get to further enhance your leadership skills as well! During this week, you get to do many activities to help you learn more about how you can be an effective leader. You get to participate in workshops that will help you determine what type of leader you are, identify your leadership strengths and weaknesses, and learn who you work best with! Alongside this, you have the opportunity to learn more about the details of the Holistic Model, how it connects each brigade program, and what it means to be a Global Citizen.
3. Let loose with enriching evening activities!
Leadership Institutes are not just about learning to be a leader, it is also about bonding with your fellow peers! During an Institute, you get to play numerous interactive games that you can bring back to your campus! In addition to this, you get to gain insight of fundraising ideas to implement on your campus, learn how you can effectively share your experience with Global Brigades and get featured by using #MyGBStory, and determine how your Chapter can get involved with GB Week each year!
4. Strengthen relationships with staff and other Chapter Leaders!
It is no secret that the staff at Global Brigades is here to support your through your endeavors. A Leadership Institute is an amazing opportunity to meet staff face-to-face and connect with other volunteers from around the world! Throughout this week, you will become close with staff so that you can feel comfortable with reaching out to them with any questions you may have in the future. You also will be able to provide guidance and support with other volunteers through sharing different ideas to strengthen Chapters on your campus!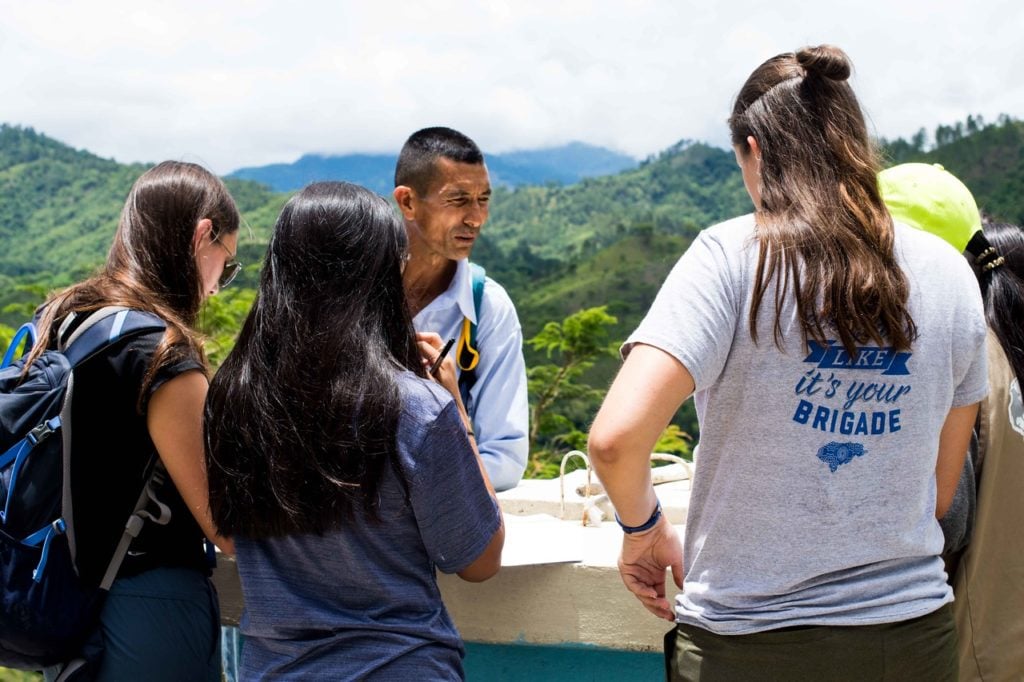 Still not convinced you want to go on a Leadership Institute yet? Read about Breanna's testimonial about her experience!
"Throughout this week at the Global Brigades Leadership Institute I have been able to witness firsthand the love, dedication, and hope that this organization pours into the communities that they work with. Attending this institute has not only given me a greater understanding of Global Brigades, but has also given me a completely different outlook on international development and sustainability. It has undeniably been one of the greatest experiences I have ever had, and I am so excited to co-lead a new Chapter, and spread the word of this organization to those who will listen."
Breanna Agular, Campus Chairperson
After you attend a Leadership Institute, you will have the opportunity to share your passion of working with Global Brigades and the effects of volunteering in partner communities. You will be able to go home and reflect how far you've come in learning about Global Brigades and the Holistic Model. Not only that, but you and your Chapters will be able make goals to become positive leaders and committed Global Citizens year round. For a sneak peek of a Leadership Institute, check out this video.If you are interested in going on a Leadership Institute in one of our partner countries, you can apply to one today by going to globalbrigades.org/global-leadership-institute!