RESTORATIVE CARE FUNDRAISING PUSH
Click here for a PDF Version of rules/competition details

October 15, 2010 – December 15, 2010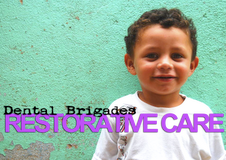 To register your club for the competition, please email danieltruong@globalbrigades.org with your university and program name to be set up with a fundraising page on empowered.org.
About Dental Brigades
Global Dental Brigades (GDB) focuses on providing dental care for people who otherwise would not have access or wealth to provide it for themselves. Our model includes preventative education & cleanings, extractions for decayed teeth, and fillings for teeth that can be saved. The majority of rural Hondurans have no access to dental care apart from Global Brigades.
In 2009, only around 15 GB communities had the opportunity to see a dentist and get decayed teeth extracted.
In September 2009, a dentist with the University of Washington's dental brigade bought and donated a restorative unit which dentists have used for offering fillings in remote areas (sometimes with no electricity.)
In 2010, Dental Brigades has grown to over 40 chapters, traveling to over 100 villages (some more than once). Care has also increased to include cleanings with fluoride, preventative education, extractions, and occasional fillings!
Our Goal
To raise $3,000 collectively to purchase a restorative unit to better serve the needs of the community members in Honduras and to spread awareness about the need for dental-care in underserved communities. With a brand new unit, more universities will be able to provide restorative care on their brigades, more communities will receive this preventative care, and more smiles can begin to make difference.
The Competition
Any university Dental, Medical, and Medical/Dental Brigades are invited to participate in Global Dental Brigade's First Annual Restorative Fundraising Push! The unit will only be available in Honduras, but all clubs are encouraged to participate. This competition will take place from October 15, 2010 – December 15, 2010. Each university club will be competing with each other through a variety of fundraisers, donations, and community education. If a university club raises at least:
$100 – Guarantee use of unit on at least 1 day of brigade
$200 – Guarantee use of unit on at least 2 days of brigade
$500 – Guarantee use of unit on all days of brigade including future brigades up to Fall 2011
University clubs that raise the most money will have the privilege of naming the restorative unit after their club! Promotional material and fundraising ideas will be provided to all clubs participating. All donations will be received on www.empowered.org at Dental Brigades Fundraising Push donation page. If you are interested in the competition or have any questions, please contact danieltruong@globalbrigades.org.
Join this student movement and friendly competition to help bring dental care to a new level! Help educate, help fundraise, and help prevent.
Their smiles are the difference.
Check out the promotional video here: