Written by Meghan Smith, GB Alumni Engagement Ambassador
How many times a day do you use the bathroom? Although many may consider this question to be TMI, your toilet doesn't. Each day, millions of people spend some quality time on their in-home "thrones" as part of an everyday routine. What people don't often think about, however, is exactly why we use our beloved thrones and what the implications are for those who do not. The clear reason toilets are so important is waste containment. When available, toilets are a huge contributor to good public health and sanitation by preventing contamination and the spreading of disease. Unfortunately, many underdeveloped regions still lack access to resources required to obtain toilets which blocks the flow of good community health. According to the World Toilet Day informational site, 4.5 billion people live without access to a safe toilet. On top of that, worldwide, 892 million still defecate in the open, for example in street gutters, behind bushes or into open bodies of water. This lack of proper sanitation expedites the process of contamination, leading to illnesses such as cholera, diarrhea, and parasites which in turn impacts a community's education and economy.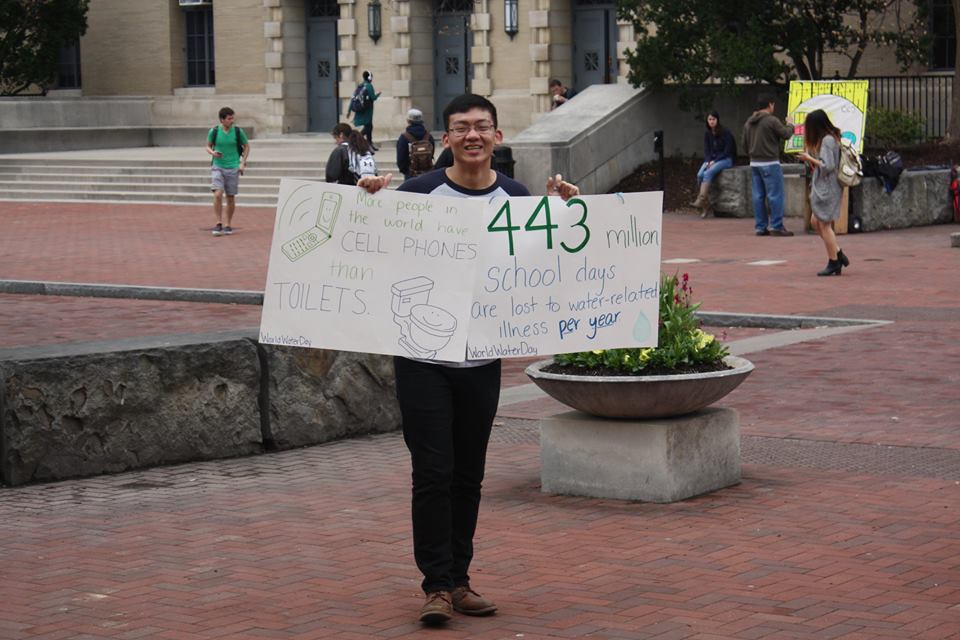 Although the idea of a toilet seems simple, a functioning toilet requires clean water with plumbing, construction of the infrastructure, and funds. Because of these necessary factors, many underdeveloped regions of the world do not have resources readily available to obtain proper water and sanitation systems for themselves. In efforts to relieve this inequality, Global Brigades Honduras works to implement necessary infrastructure in a sustainable manner through our WASH Program (Water, Sanitation, and Hygiene) in partnership with the Community Banks, or Cajas Rurales. Through the interaction of these different Global Brigades Programs, our community partners are able to obtain water systems/pipeline, latrines, water storage units, water filters, and eco-stoves (designed to prevent lung disease from open-air cooking). A crucial aspect of the implementation of this infrastructure are brigaders. Each year, thousands of volunteers journey to Honduras from the US, UK, and Canada and provide insight and labor for making these projects reality in our partner communities.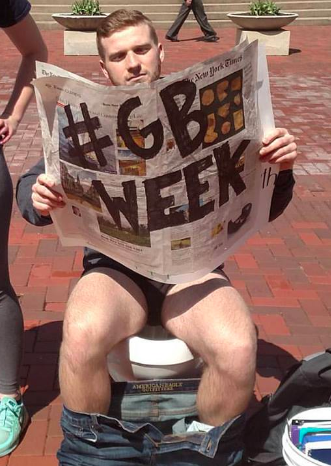 As a long-time partner of Global Brigades Honduras, the Water and Engineering Chapter at Penn State University has collaborated with the WASH Program and its goals since 2010. As part of one of the largest Global Brigades Chapters in the world, Penn State Water Brigades has contributed to the Water and Engineering Programs through fundraising, on-campus education and meetings, and sending Water/Engineering Brigades each year. One unique way that Penn State Global Water Brigades is able to push awareness about why WASH implementation is so crucial is during "Water Day" as part of GB Week. Each year's Water Day, Penn State has a tradition where the newly elected Campus Chairperson sits on a toilet outside of the student center (affectionately known as "The Hub") shouting hilarious yet thought provoking quotes such as, "Give a crap about water inequality!" or "Let's work to flush the lack of sanitation away!". Along with the Campus Chairperson, other members of the executive team volunteer their time to hold posters which contain different statistics regarding the lack of access to water and proper sanitation/hygiene in the GB Programming countries of Honduras, Nicaragua, and Ghana.

This activity not only engages other students to think about global issues, but also provides great publicity for Global Brigades at Penn State. The current Campus Chairperson, Lauren Echols, says this about the annual awareness efforts:

"At Penn State we make it a goal of ours to whole-heartedly embody the motto of GB365 by constantly raising awareness about the health and economic disparities that exist both in our local and global communities. The porcelain protest that we hold on campus every year during GB week is just another way that we raise awareness, in this case trying to educate fellow students about how water inequality affects over 780 million individuals worldwide."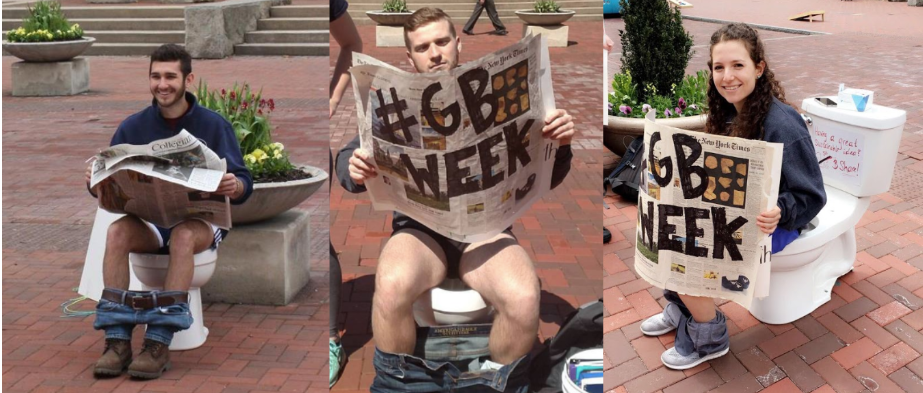 The story of how Penn State Global Brigades stumbled upon the toilet is for another time, however the attention-grabbing nature of this tradition has helped Penn State continue to have a strong Global Brigades presence on-campus. This just goes to show that a little creativity can go a long way when looking to spread awareness about Global Brigades on-campus. Any Chapter, established or new, can have unique recruitment and fundraising events which encourage critical thinking, passion for international development, and a call to action to volunteer on an upcoming brigade!

For more information about how Global Brigades WASH Programs work year-round to improve quality of life, go to waterbrigades.org. For more information about Penn State Global Brigades make sure to go to psugb.com. Thanks to Penn State Global Brigades for the media content of your successful past GB Weeks and collaboration on this post. WE ARE… PENN STATE!