In honor of Global Brigades Month, we are bringing you a new student highlight every week. These student volunteers were nominated by our Advising Team for their dedication to GB and for going above and beyond in planning and participating on Brigades.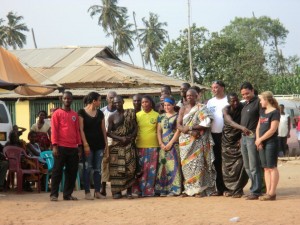 Who: Priscilla Mapelli
School: UCLA
Brigade: Medical Brigades
Nominated by: Solomiya, Medical Brigades Program Advisor: Priscilla came to Ghana the first US brigade to the new country, setting the bar high for all future groups. As an army of 59 students and doctors and with all of the energy and passion, she inspired and motivated our GB Ghana team.
We asked Priscilla: What was your most memorable Brigade experience and why? How has your Brigade experience impacted your life back home and on campus, or future career and education plans?
I am third year, pre-medical, International Development Studies major at the University of California, Los Angeles. As one of the leaders for the Medical Brigades at UCLA, I have been on four GB trips to Honduras, and one to Ghana. My most memorable Brigade experience was being made one of the chiefs for the community of Ekumfi Abuakwa, Central Region, Ghana in December 2011. The humbling experience was pivotal to my personal growth. Honestly, I cannot find the correct words to articulate my emotions at the closing ceremony. Just overwhelmingly heartwarming, and speechless. All I can say is medaase paa for reigniting that flame of hope and motivation.
Additionally, the experience reinforced my aspiration to create a positive impact on global health, as well as holistic and sustainable development, through grass-root community involvement. It further cultivated my understanding of community respect and appreciation. Moreover, it has inspired me to apply that knowledge and skill to the structural inequality in my life back home and surrounding Los Angeles area.