By Emily Barnett, Monitoring and Evaluation Program Associate in Panama
A vision is something that every organization at some point has to thoughtfully explore. It not only clarifies their goals internally, but to the rest of the stakeholders that engage with them. It seems like today there is a nonprofit for everything, everyone, and every cause. They are often broadly defined, but if we had to describe a generic vision it most likely would be:
"the pursuit of some sort of public interest or public good, rather than individual or commercial interests."
Social issues, such as poverty, are complex, sometimes transcending multiple generations and aspects of a community. For example, many communities where GB works with brigades traditionally do not extend many opportunities or expectations for women to focus on careers and earn their own incomes. This would be a challenge based on a culture and tradition. As a result, Global Brigades focuses many of its Microfinance and Business programs on the financial training of women in the community so they can participate in the Community-Owned Banks. Similarly, given a lack of access to medical care in more remote communities, Global Brigades took the opportunity to launch a training program for Community Health Workers which also creates a new skillset for many women in the same environment. Social issues may not be limited or uniform based on the scope of their governments, borders, or even cultures. With this in mind, how can an international nonprofit ever hope to come up with a strategy to successful, long-lasting social impact without a social approach?
Global Brigades has developed the Holistic Model to empower communities to tackle rural poverty in Honduras, Nicaragua, Panama, and Ghana. It might seem like a general community obstacle, but if you've ever had the opportunity to sit down and listen to an international meeting between program teams you know then that each country does things slightly differently to coincide with their communities' diversity. Issues such as poverty in our partner communities are characterized by various barriers starting with health and most basic needs, education, and organized local leadership to start new initiatives. Global Brigades' Holistic Model recognizes that focusing on just one barrier will not solve the general situation.
The communities GB partners with are different and our local opportunities and challenges are so nuanced that it is crucial we take project implementation slowly and with the voice of the community in mind. Why then do we still try to coordinate in the face of so many apples vs oranges.
One reason is that although the public has a high trust in NGOs' intentions, when addressing global issues a clear solution is very often a work-in-progress. In other words, organizations don't always get it right the first time. See how TOMs has changed its development strategy.
Hence, we have to work together to share what works and what doesn't. We owe it to our stakeholders at all levels to ask ourselves questions about our strategies and evaluate our efforts in every community. And furthermore, if we are all working toward the same social goals we have to get on the same page and align our efforts.
Send in the nerds!…and the theorists, psychologists, and researchers!
In the last few years at Global Brigades we have heavily invested in cross-team collaboration to peek under the hood of our programs and measure our inputs. See M&E International Conference for more about the work the Monitoring and Evaluation team does in conjunction with our program teams and across our partner countries. Our newest international project is the Empowered100 initiative which is underway already in Honduras, with plans to roll it out to Nicaragua and Panama soon.
As expressed by Philomena Panagolias, Empowered 100 Project Coordinator, "The Empowered 100 is a strategic project to empower 100 rural Honduran, Nicaraguan, and Panamanian communities to permanently rise out of poverty. Although Global Brigades has implemented and developed the Holistic Model over the past 10+ years, The Empowered 100 seeks to further refine this model in order to create a blueprint to end rural poverty in Latin America. In approaching such a grand undertaking, we constantly need to critically evaluate our theory of change to clearly identify and articulate how we actually empower communities. We certainly recognize that we cannot apply the same methodology in every community and expect the same results, so the blueprint serves as the backbone for our results-based strategy."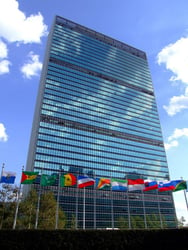 This project considers outside consultants and the Sustainable Development Goals of the United Nations. As the site explains the goals, "everyone needs to do their part: governments, the private sector, civil society and [the individual]," to accomplish these goals in the next 15 years worldwide.
Consider for a moment all of the organizations sitting with their staff in office break rooms, out in the field, or maybe just leaving the New York City UN headquarters wondering how they can each make these 17 objectives a reality.
Like UN agencies, nonprofits around the world have to create a space, whether virtual or in-person to collaborate.
In Panama, for example, sits an international hub of NGOs, governmental agencies, and international representatives called the Ciudad del Saber or City of Knowledge. Just like GB conferences and summits that function to share news, compile insights, and find solutions to common issues, the Ciudad del Saber acts as a platform to bring everyone into the same conversation and purpose. The United Nations has an office with many agencies, like the World Food Program all situated on the Panama City property. Other organizations that have also established offices include Peace Corps., the Red Cross, and the OEI (Organización de Estados Ibero-americanos). Under one roof, the network can operate at its strongest to open the channels of dialogue and discuss issues that affect the entire region of Latin America.

We have a lot of socializing left to do to solve these social problems. The more we can publish, present, and propose the better. As Kim Baker, the Program Associate for Monitoring and Evaluation in Nicaragua once commented, "Already we have changed so much in our thinking surrounding development work internationally. It is fair to think and expect that the nature of development projects could look completely different 50 years into the future"
In the field of development, which in itself is always developing and evolving, it is important to share best practices on an international scale. It is only with this fluidity of collaboration, that we can constantly work toward our vision in the most effective and authentic way possible.
Learn more on our website about how we track our impact.