By Volunteer Engagement Associate, Rebekah Kawas and Marketing Associate, Sydney Colbert
"Do not go with the intention of helping, go with the intention of learning, and the rest will come naturally."

– Reha Kakkar, "International Volunteering and the "White Saviour Industrial Complex"
White Saviorism and International Volunteering
One of the most controversial issues in the field of international volunteering is White Saviorism. White Saviorism refers to a complex where a white or privileged person provides aid to a Person of Color (POC) or a socially disadvantaged community for self-serving motives. Performative activism is one of these self-serving motives or using POC and disadvantaged communities as a backdrop to compose a philanthropic image of oneself. Volunteering with these motives has profoundly harmful effects on disadvantaged communities and perpetuates the idea of "an impoverished third-world country desperately waiting for the charity of the west" as described by Reha Kakkar, a writer for Affinity Magazine. Delving even further into the topic, historically, there is vast evidence (here's an example) that racist and colonial perspectives in international aid have caused great trauma to under-resourced communities in the United States and around the globe.
If we consider ourselves "Global Citizens", individuals that care about global issues and have a desire to build a more equal, fair, and sustainable world, then we must challenge ourselves to recognize the ways in which we may ignore or perpetuate injustices in our world. Subsequently, let's regularly examine our intentions and ensure that we are putting the rights, respect, and desires of the community first and foremost in our practices. Good intentions are not enough for the communities that we aim to empower.
How Global Brigades Addresses White Saviorism
Volunteering abroad has the power of being an impactful lifelong experience for all involved. Global Brigades sees the lives of countless community members and volunteers alike transformed over the years as they work in unity to reach the community's unique health and economic goals. These goals are intentionally designed to be holistic, sustainable, and most importantly, community-led and maintained. That is why we make sure to hear from all involved in our programs when concerns are raised about the practice of international volunteers and Global Brigades as an international nonprofit organization.
With this in mind, there are typically four ways communities become GB partners:
Local governments suggest regions.
Community Leaders request to partner.
In-country GB staff identifies potential partners during visits.
Partner organizations suggest collaborations for support.
From this, partnerships have the ability to begin with a request from the local government or community leaders themselves. This allows Global Brigades to hear from and work directly with the local community to determine what their own health and economic goals are. This is at the core of how we address white saviorism – listening to the needs of a community to determine if a partnership is feasible while simultaneously upholding the goals of the Holistic Model. Community partnerships also begin hand-in-hand with the Global Brigades Monitoring and Evaluation team by utilizing needs assessment tools alongside community leaders and members to get an accurate picture of the community. Furthermore, Monitoring and Evaluation work internationally and year-round to track data at the community level. This helps in listening to the voices of local stakeholders, like members, businesses, or households, that guide Global Brigades' mission as communities know best.
This open stream of communication is paired with in-country GB teams local to the area diligently executing programming on a regular and equitable basis using their intimate knowledge of cultural context and program impact. Year-round engagement of our programs like this allow student volunteers to be only one piece of what we do. Even on Brigade, volunteer projects are led by local professionals in their respective fields, whether it be a healthcare provider, engineer, or technician. With project outcomes geared specifically toward community impact, The Empowered 100 initiative is the collective guideline to ensure partner communities receive the entirety of the Holistic Model as it relates to their community's unique situation and the United Nations Sustainable Development Goals of:
Goal 3: Good Health and Well-Being
Goal 6: Clean Health and Sanitation
Goal 8: Decent Work and Economic Growth
Global Brigades' implementation of the Holistic Model with these goals as guidance works to resolve health, economic, and WASH (water & sanitation) disparities in communities that are otherwise under-resourced.
On this note, we believe it is crucial to sufficiently prepare volunteers with this knowledge. So, what are we adding to our brigade preparation materials to make sure all stakeholders have access to this background information? Global Brigades is relaunching its Volunteer Resource Site (VRS) to be more user-friendly and include topics such as Ethical Volunteering, Sustainable Development, and the White Savior Complex. Chapter Leaders and volunteers across all of our universities will be able to utilize these resources to prepare themselves before volunteering with us on Brigade. Typically white saviors are those that come into a community with little training, knowledge, or care about the country or people they plan to work with. Our updated VRS will help us alleviate this gap to ensure GB volunteers have extensive knowledge of our organization, international volunteering, the projects they'll be working on, and the cultural context for the communities they plan to partner with. Catch a sneak peek of the new VRS navigation page below.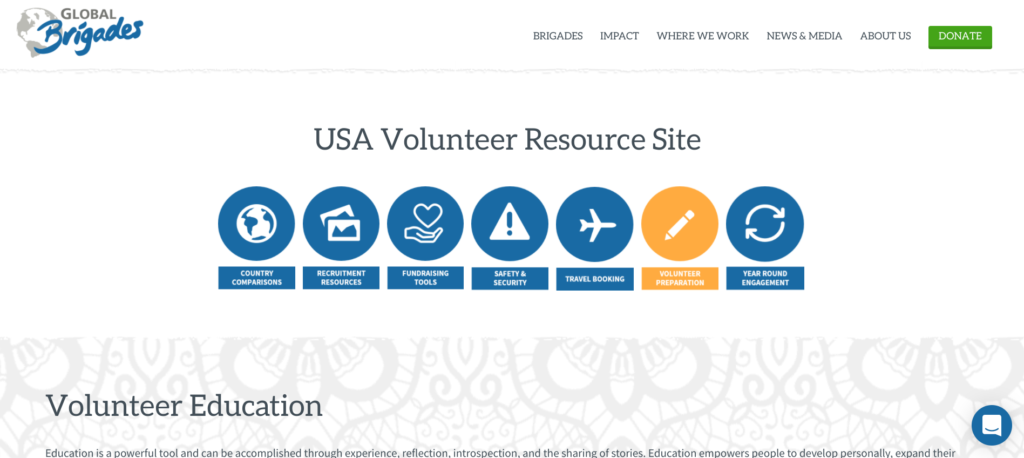 How You Can Grow as a Global Citizen
This growing virtual environment we will see in the VRS also extends to the launch of the new TeleBrigades program for Medical, Business, Engineering, and Public Health Chapters to volunteer during the time of postponed in-person brigades and beyond. Use this opportunity as an option for you and your group to be a part of global impact while avoiding costly travel and the negative environmental impact associated with flying. TeleBrigades allows Chapters to see the in-country impact GB staff has on the ground year-round through organizational funding.
As you continue on your journey to becoming a Global Citizen with new initiatives like this, make sure you identify what's important when sharing your experience about a brigade, TeleBrigade, or any volunteer opportunity you take part in. Keep in mind GB's 3Cs when telling your friends and family about your experience as a volunteer or when you post on social media. Challenge yourself to ask questions about the photos you take and the importance of consent. This guides all of us toward content that centers the story on partner communities, local staff, and the holistic approach to the work completed. With thousands of volunteers each year, we set an example for how others perceive international development work and it's our responsibility to shed an accurate light on the full scope.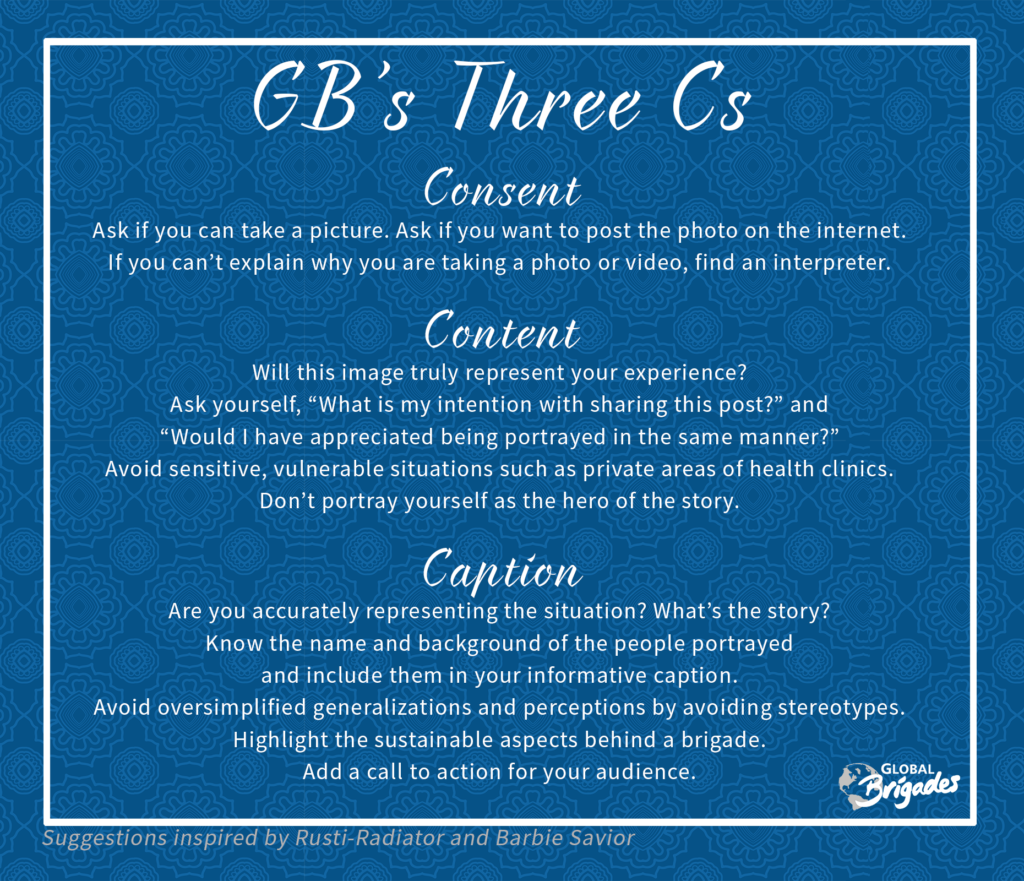 However, Global Brigades' responsibility to equity also transcends to teaching volunteers how critical it is to think globally and act locally. What does this mean? This means actively volunteering as a Chapter pre-brigade, exercising your right to vote, and taking a stance on the local initiatives that are important to you to name a few. Find movements that allow you to explore your role as an ethical volunteer. This could be doing your own research, generating discussion with the people you care about, or supporting local businesses. Taking this type of action can help keep you connected to your community and foster better team relationships among your Chapter when you talk about and experience these things together.
Resources for Ethical Volunteering
Whether you volunteer with Global Brigades, travel on your own as a Global Citizen, or participate locally in your community, there is a vast array of resources that you can use to educate yourself on White Saviorism and various current topics in international volunteering. Remember to not assume that your intentions are what's best for the needs of a particular community. When making the decision to volunteer abroad, let's educate ourselves thoroughly on the historical and cultural context of a community and come with an attitude of humility and openness to learning. Armed with this information, we can become stronger partners, more informed individuals, and true Global Citizens making positive change in our world. Check out the resources we've compiled below to help you build your own personal Global Citizen Curriculum:
Understanding GB:
Essential Reading
Taking Action Locally
Taking Action Virtually